We recently made the drive across country to stay for a few months with my daughter in Atlanta.  The reason?  The birth of our first grandchild!  I got busy making a few fun projects for her including a cute baby blanket that I will feature soon, along with an easy to make Butterfly Baby Mobile.
Have you ever priced mobiles?  My daughter and I did, and left with sticker shock.  While they were certainly cute, we were looking at $50 to $100 for the type of mobile that we both liked.  Since the baby will only be enjoying the mobile for a short time (before it needs to be removed from the crib for safety reasons), we didn't want to spend a ton of money.
And sweet little Esme deserved the cutest baby mobile that we could find.
I decided to make my own version with rainbow colored butterflies.  But before I began, I did a bit of research on Baby Mobile safety.  I wanted to create something beautiful, but safe for the baby too.  If you decide to make this project, do keep in mind the following safety tips.
Baby Mobile Safety
Length of Mobile Strings– a mobile with strings longer than seven inches could potentially strangle your baby. Usually, store-bought mobile will meet this requirement.  Creating your own, you need to keep this rule in mind.
Potential Choking Hazards– small parts can also pose as choking hazards.  My original plan for this mobile was to include small hanging crystals.  While they would have looked beautiful, they would have also been potential choking hazards if one happened to fall off.  The crystals were put aside for a future non-baby project.

Safe Placement of the Mobile-  The mobile needs to remain out of reach, but close enough for the baby to enjoy.  Hang the mobile about 16 inches above the surface of the crib mattress.  Never let the strings dangle below the crib rails.  Be sure the mobile is installed securely, and check periodically to ensure that it is still secure.
Remove the Baby Mobile when baby can push up her hands and knees- Usually around 5 months, the baby will come to the point where she might be able to reach the mobile.  It is at this time that you would need to remove it from the crib for safety reasons.  But all is not lost.  You can certainly display the mobile in the baby's room somewhere, hanging from the ceiling in a corner of the room.  A bright little spot of butterflies!
Affiliate links to Amazon below:
For this project I used:
Baby Crib Mobile Arm with Music Box  (This was our most expensive part at around $12 and included the arm that secures to the crib along with a music box with rotating hook)
Felt fabric in 12 different bright colors (8″ squares are more than enough).
Batting (about 1/8 yard)
Rainbow Cording 
1/2″ wide Ribbon
Craft Plastic Sheets (or you can use an embroidery hoop)
Hot glue
Free Butterfly Pattern
Total cost for this project was around $25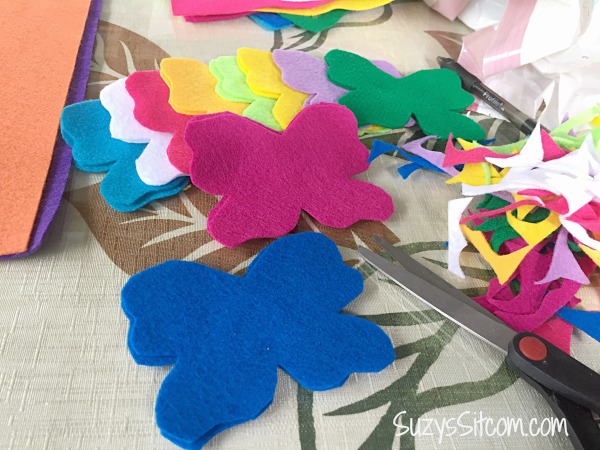 Print out the butterfly pattern and use it to cut out a total of 24 butterflies (2 from each color of felt fabric).
Use the butterfly pattern to cut out 12 butterflies from the batting making them smaller than the felt butterflies as show above.  Cut (12 ea.) 9″ lengths of rainbow cording.  (These will be shortened later).  Sandwich each butterfly as shown above with a felt butterfly on the bottom, batting, end of cording in the center and felt butterfly on top.
Put your sewing machine on zigzag setting (adjust for a smaller zigzag).  Sew all layers together, starting in the top of the butterfly where the cording is.
Repeat the process for all 12 butterflies.
Click here for the assembly instructions!