A row of pretty painted houses make a cute, colorful shelf!  This tutorial will walk you through some painting techniques for creating your own little village of houses.  
As most crafters do, I spend a lot of time perusing the craft stores, and over the past year I have accumulated quite a stash of small unpainted birdhouses.  I collect things with the plan of someday coming up with a craft, and it just so happens that I finally figured out what to do with that birdhouse collection!  I made a painted house shelf!
Affiliate Links to Amazon below:
For this project I used:
(5 ea) 3″ wide unfinished birdhouses
One 15″ long unfinished CD crate
Acrylic Paint in: Lime green, Orange, Teal, Lilac, and Bright Pink
Clear acrylic sealant (matte finish)
Assorted Adhesive stencils
One of my favorite painting techniques is to use a small selection of paint colors to coordinate multiple items; making them one.  In this case, we are going to use the same five colors on all five birdhouses.  The end result will be coordinating painted houses!  I selected lime green, orange, teal, bright lilac and bright pink.
I began by painting each house one of the five colors.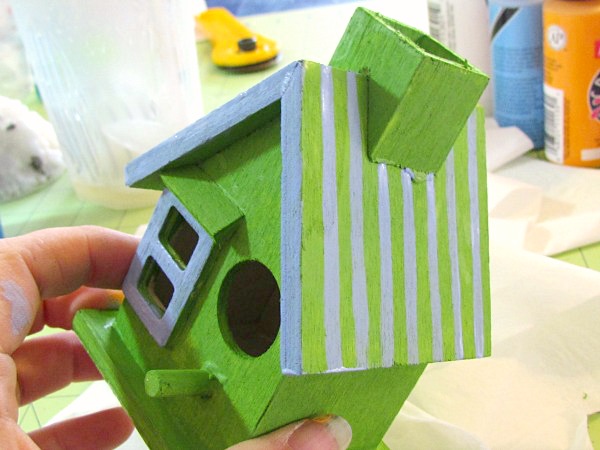 I then added details to each house.  I used stripes, polka dots, plaids; basically whatever came to mind.  The object of the game is to leave enough of the base color so that each house looks a bit different; but also be sure to include all five colors in each house so that they go together!
Been in the stencil section lately of your local craft store?  Such a variety!  And I located some adhesive stencils that would be perfect for this project!
Simply adhere the stencil to your project and paint the colors on.
Peel the stencil off, and there you have it!
Stencils like this can be used over and over again for cool effects.
Each house gets its own little personality.
For a shelf, I located an unfinished CD crate at the craft store for $5.00.  I chose the teal to paint it with so that it would match my painted houses.
I used hot glue to glue my houses down in a row on the top of my shelf, butting them up against each other to create a miniature village of painted houses!  The finishing touch was to add a couple pinwheel picks that I found in the scrapbooking section of the store.
I just love the colors in this project!  I plan on using my shelf to hold folded kitchen towels.  It should brighten my kitchen up just in time for spring!
Are you new to the Sitcom?  Be sure to check out my Frequently Asked Questions Page!
Want more painting projects?
Handpainted Gourd Chickens Tutorial
Faux Stained Glass with Acrylic Paint and Glue
For hundreds more tutorials for all ages, be sure to visit my Tutorial Page!