I want to share with you a simple process to create Batik fabric with washable glue and fabric paints. The results look the same as an expensive piece of Batik fabric, but using simple materials that you might just have around the house!
Since we are full-time travelers living in our RV, my designs are always influenced by my current surroundings.
We are currently living on a beautiful island in upstate New York on Lake Ontario called Association Island. We love the fact that we are so surrounded by nature here. Fishing is the number one sport here and you can find huge beautiful fish right on the shore. Another interesting fact about the island is that it is home to hundreds of Mapping Turtles who come to shore in the evenings to lay their eggs.
The turtles, fish and amazing sunsets here inspired my two free patterns for this project. It is a great way to remember the island long after we leave.
This post also includes more unique Fabric Ideas!  So be sure to keep reading for lots of inspiration!
I'm SO excited to be guest posting over at Kenarry: Ideas for the Home today sharing all of the instructions for this project!  You can find the full details, and lots of photos of this Easy to Make Batik Fabric Project HERE!
Want more Unique Fabric Ideas?
How to Make Batik Fabric with Crayons!
As a quilter, I've always had a preference for batik fabrics. I love the vibrant colors! Well, if you have been following my blog for any time, you probably already know that I love me some color. And the idea of using a resist to block color in areas is something that I love doing with my Ukrainian eggs. So, a mix of color and resist dyeing with crayons just seemed right up my alley.
Hooty Owl "No-Sew" Fabric Wall Art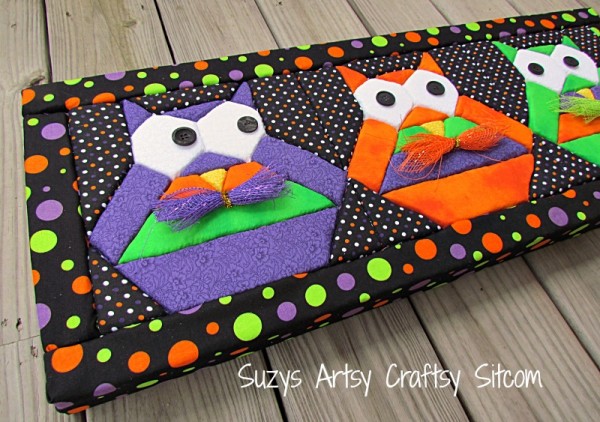 How about some Halloween fun?  I created these cute Halloween Hooty Owls using some bright Halloween fabrics and Fun Foam.  It has a quilted look, but involves no sewing!  Perfect for brightening up your house for the holidays, these cute owls are my version of a non-scary Halloween.  Want to know how to make them?  Instructions and FREE pattern here!
For over 200 crafty tutorials for all ages, visit my Tutorial Page!