Let's celebrate Valentines Day using acrylic paints, cardboard scraps, Mod Podge and lots of paper scraps to create a fun card holder.  This project is a great way to use up recycled cardboard, takes very little time, and adds a touch of whimsey to your holiday decor!
This card holder is made entirely with scraps and recycled material and can be made in an afternoon!
So let's talk about this colorful camper!  I made this with Valentines Day in mind, but you know what?  It is going to be a cool decoration for my real life camper.  Do you want to know how to make one of your very own?
For this project I used:
Cardboard (I cut up a cardboard box)
Apple Barrel Acrylic Paints
Paper Mod Podge Matte
Hot Glue
Assorted colorful scrapbooking papers
Scraps of fabric trim, rick rack, buttons, ribbons
Draw out the outline of a camper.  Basically, it is an oval with a wheel at the bottom.  Mine measured approximately 12″ x 8″. Cut out the camper using a craft knife and then flip it over to trace the other side.  Cut it out, and then cut several strips of cardboard that measure 3″ in width.
Lay the back of the camper wrong side up.  Run a bead of hot glue along the edge.  Form a cardboard strip to the shape of the camper and glue the edge down as shown.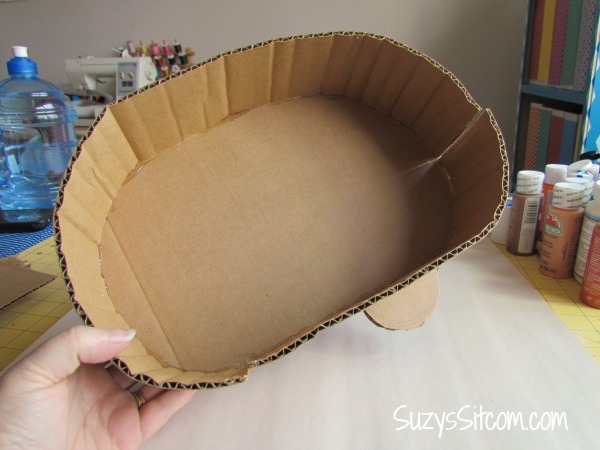 Continue around the perimeter of the camper with the strips of cardboard, skipping the wheel as seen in the photo above.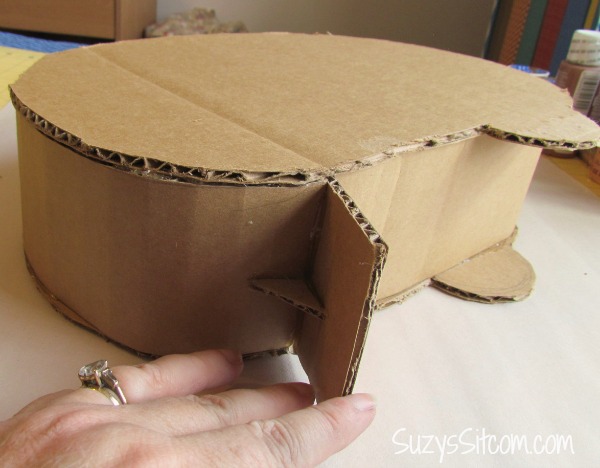 Hot glue the other side to the top.  Cut a rectangle of cardboard to be the "stand".  Cut a small triangle of cardboard to keep the stand erect and glue both into place as shown above.
For the awning, cut a rectangle of cardboard and a couple small triangles for support.  Glue in place.
Use the craft knife to cut a slot in the top of the box for cards.
Cut a door in the back to retrieve the cards.  Simply cut three sides and fold out.  The bottom uncut side will be the "hinge".

Now for the fun part!  Begin by using Apple Barrel acrylic paint in Berry Red to paint the entire piece.  (You don't have to have perfect edges as you will be covering them shortly with fabric trims).
The awning was painted with Apple Barrel acrylic in the shade of Laguna.  Cut out a piece of scrapbook paper in a strip about 2″ wide for the contrasting stripe on the camper.  Paint the backside of the paper with Mod Podge, lay it in place and then paint Mod Podge over the top to glue it down.
Use a contrasting color for the awning.  Cut strips of paper and glue them in place with the Mod Podge.  Cut out the door and windows from scrapbooking paper and glue them in place with Mod Podge.  At this point, coat the entire piece in Mod Podge to protect the paint and give it a finished look.
Use scraps of fabric trim to edge the camper.  Hot glue in place.
Cut out hearts from scraps of colorful paper.  Glue down onto a narrow piece of ribbon.
Use scraps of rick rack, scrapbook decorations  and buttons to finish the decor.  Paint the tire black and add a colorful hubcap with paper.

Finish off the back door with a couple buttons and ribbon so that the door can be tied shut.  The buttons are glued in place with hot glue.
This pretty little camper is perfect for Valentine cards, but it can also be used as a bank, or just a decoration for the house.  I plan on storing my receipts in mine.  It will be the perfect addition to my real life camper!
Made this project?  Send me photos and I will put them here!
Are you new to the Sitcom?  Be sure to check out my Frequently Asked Questions Page!
For over 200 crafty tutorials for all ages, visit my Tutorial Page!