I enjoy paper art for many reasons.  Paper is easily manipulated and can be made into an unlimited number of things.  It can be colorful and as I'm sure you know, I do love color.  But the most impressive thing I find about paper is that it is cheap!  The tightwad inside me just loves that fact!
So, I decided to put together a few of my more popular paper art posts for you.  Ranging from incredibly simple to the not as simple, these tutorials show you how to create beauty from a simple piece of paper!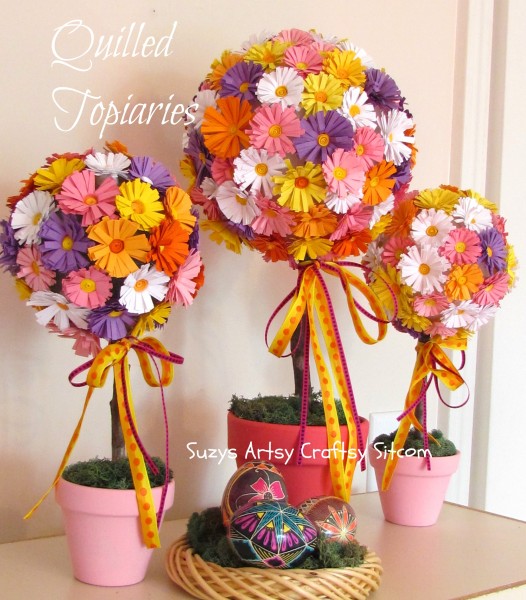 Created from colorful cardstock, these Quilled Topiaries will brighten up any table!  Yes, the flowers take some time to make, and yes, you have to make a bunch of them, but look at the color!  And money-wise, this project was less than $10 to complete.  Just in time to bring in Spring!
Paper Reed Frames made from recycled magazines!  This is a fun project that even the kids can do!  Be sure to check out the tutorial.  We made these on a "girls trip" and each project was totally unique and beautiful.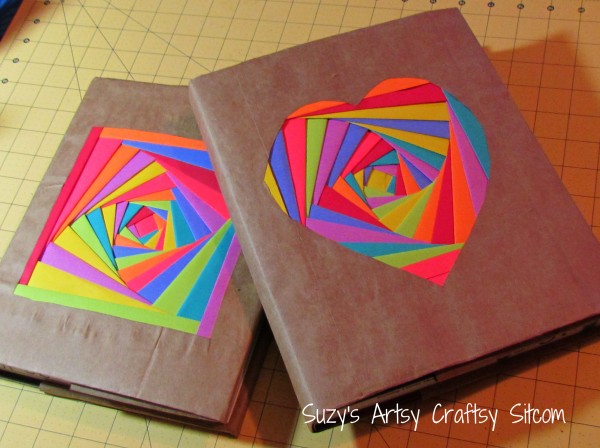 And talk about color! These Iris Folded Book Covers are sure to make an impression!  Iris folding is an easy paper art, that involves simple folding and gluing of paper using a predetermined pattern.  I offer the free pattern for these book covers here on the Sitcom!
 This is one of my original quilling projects.  The Quilled Flower Frame is actually easier to create than it looks.  It is amazing what you can do with paper, isn't it?
And finally, one of my most popular projects on my website, Magnetic Mouse Trap Clips!  Don't worry, we take the mouse trap apart so that it isn't as "snappy" as usual!  And they make great clips, don't they?  Why are these in paper art?  Well, check out the cute 3D images on them!  That is a paper art called Paper Tole.

Take a few moments and check out these paper art tutorials and my entire section of paper art crafts!  Paper is fun to work with and the possibilities are endless!
For over 100 more tutorials for all ages, be sure to visit my Tutorial Page!
Are you new to the Sitcom?  Be sure to check out my Frequently Asked Questions Page!