I do a lot of work with recycled materials, and one of my favorites to work with is disposable aluminum cookie sheets.  Here are four entirely different craft ideas for disposable aluminum.  Turns out, it is a very versatile medium!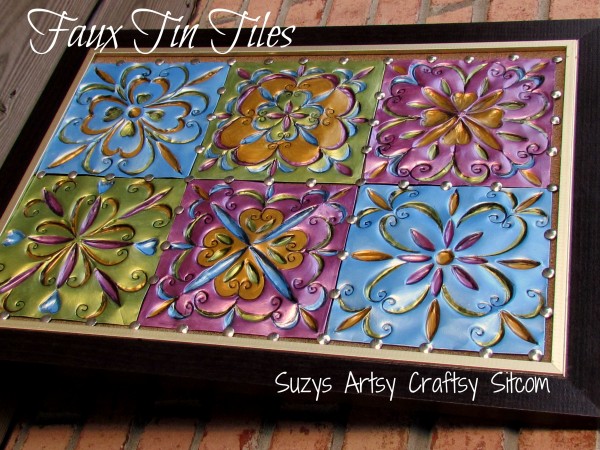 Faux Tin Tiles created from a recycled disposable cookie sheet.  A bit of embossing with the end of a paintbrush, and metallic paints make these colorful tiles look amazingly like old fashioned tin tiles!  The tutorial on The Sitcom includes six free patterns.  Featured in the February 2013 edition Crafts 'n Things Magazine, where you can find an addition six free patterns for a total of twelve tiles!
Faux Punched Tin from disposable cookie sheet.  Use a knitting needle and my free rooster pattern to create this wonderful enchanting wall art.  The look of punched tin without the price.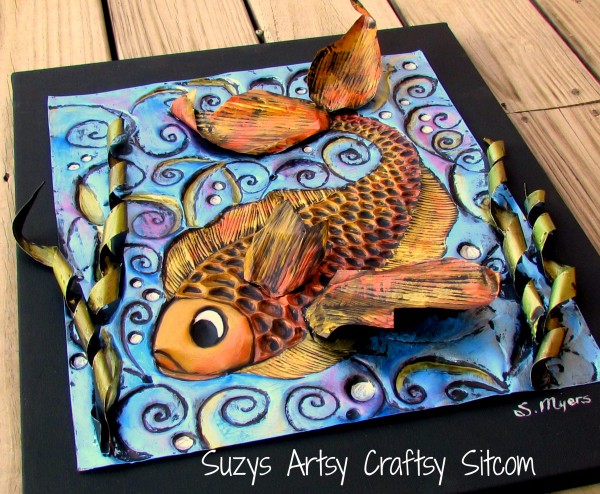 Enchanted Fish 3D Embossed Art – here we go 3D, using that versatile cookie sheet.  It is embossed with the end of a paintbrush, painted with metallic paints and mounted on a canvas.  Simple to make!
Quilled Aluminum Snowflakes– Since I seem to try out quilling on just about everything, it was only natural to try my hand at a cookie sheet in order to create these beautiful snowflakes.  Be sure to check my free pattern page for five free snowflake patterns to help you along with this simple project.
Are you new to the Sitcom?  Be sure to check out my Frequently Asked Questions Page!
*Disposable aluminum cookie sheets can be found in abundance in party stores and shops that carry catering equipment.