This is DIY Wedding week at the Sitcom!  Today, we are creating a Peacock Themed Soap Gift Box!
I am joining The Country Chic Cottage, along with a bunch of other craft bloggers in order to show you some great DIY wedding ideas.  I will be showing you several different tutorials this week that will work well with a peacock themed wedding.  And I will be using some great supplies from the Bridal Collection by David Tutera!
I've made things for gifts for weddings, in fact one of my favorite projects, the Quilled Monogram, was a wedding present.  But I have actually never tried my hand before at making wedding decorations and favors.
My first project this week is a wedding favor in the theme of peacocks.  I created little feathered soaps to give away to the guests!
For this project I used:
clear melt-and-pour glycerine soap
white melt-and-pour glycerine soap
soap mold
feathers
white gift boxes
purple satin ribbon
peacock feathers
alcohol in spray bottle
David Tutera Rhinestone Hair Snaps
Begin by cutting up the clear glycerine soap into 1 inch pieces.  Add to a microwave safe cup and microwave at high in 30 second increments, stirring each time until soap has melted.
Pour a thin layer of clear soap into the mold.  Add a feather and then add enough clear soap on top to cover the feather.  Allow this layer to dry about 20 minutes before going to next step.
Melt the white glycerine soap using the same method as above.  Lightly spritz the first layer with alcohol, and then pour a layer of white soap to fill the mold.  Allow soap to dry for at least 30 minutes before unmolding.  To unmold, simply push from the center and soap should pop out.
The result is pretty feathered soaps!  Now we need to make a great gift box to contain them!
Use dots of hot glue to attach a ribbon around the circumference of the box.
Add a peacock feather to the top, and glue it down with a bit of glue applied to a rhinestone hair snap from the David Tutera Bridal Collection.  Nothing like a little bling to finish it off!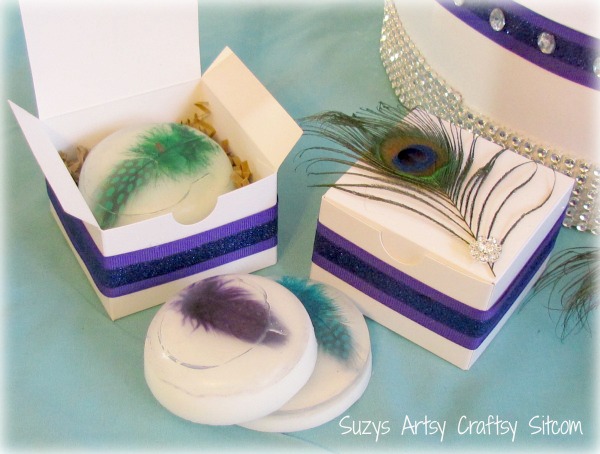 And there you have it!  Beautiful little soap favors for your Peacock themed wedding!
This is the first of a series of posts this week.  So, stay tuned!  I will be posting another tutorial tomorrow, and I have the "big reveal" post on Friday!  And don't forget to stop by The Country Chic Cottage to see other great wedding diy ideas!
Post #2 – DIY Wedding- Tea Light Table Lamp with Bling
Post #3- DIY Wedding- Floral Centerpiece and Floating Candle Votives
The big reveal post can be found here! DIY Wedding- Peacock Theme Card Box
Are you new to the Sitcom?  Be sure to check out my Frequently Asked Questions Page!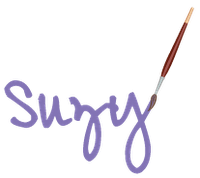 I wrote this post as part of a sponsored campaign with Darice and The Blueprint Social. The opinions in this post are my own.