Create a cute personalized gift for your child's favorite teacher!  Created from basic bread dough and painted colorfully, this little desktop bear momento will be a total hit.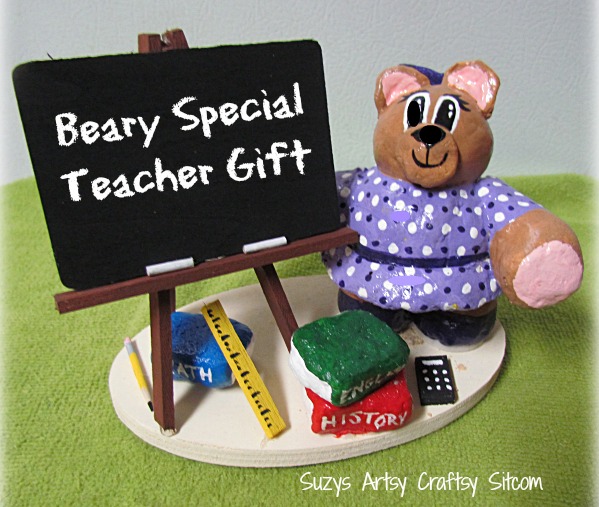 August 5 is the first day of school for a lot of kids in the Atlanta area. It's nearly 100 degrees outside and certainly doesn't feel like summer is over, but in fact it apparently is for the kids in the area. So I thought I'd bring back to life a project that I had done many years ago for my daughters' teachers. I've always been a fan of miniatures. And I'm an even bigger fan of inexpensive, fun projects. This one fits the bill on all counts. And the teachers always loved it.  A win-win situation.
For this project I used:
Bread dough:
1 cup flour
1/4 cup salt
water
Other Supplies: 
(1) 3/8″ x 36″ strip of balsa wood
(1) 2″ x 3″ piece of pre-cut wood (found in packs in most craft stores)
Round toothpicks
Acrylic paint
Clear acrylic varnish
Gorilla Glue

Hot glue
(1) 3″ x 4″ Oval wood base
Begin by combining the flour and salt in a bowl, adding water gradually and mixing until it becomes a workable dough. It should not be sticky. If so, add more flour.
Cover a cookie sheet with foil and begin assembling the teacher bear. Create one large ball (about 2″ in diameter) for the body, and add a smaller ball to the top for the head. Add a touch of water between the two for a good bond. For a girl bear's skirt, roll a tubular piece between your fingers until it gets to be about 5 inches long and wrap around the base of the body, flattening it out with your fingers.
Roll out two similarly shaped arms and attach to the body, adding a drop of water for good bond. In this instance, one arm is down and the other is out so the bear can be pointing at her easel. Create two ears out of small balls and attach to top of her head. Create a hair bow and attach that. The nose is a small ball, flattened onto the front of the face, using a drop of water to bond.
Roll two similar size legs between your fingers and attach them together, side by side. Be sure to flatten the tops so that when you add the body, it will be able to stand on it's own. The legs have to cook separately from the body so that the bear will stand tall when it is completed. Otherwise it shrinks during baking and you end up with a lopsided creepy looking bear.
Just sayin'.
Create some books by rolling a ball and then flattening it and pinching it on four corners to create a flat rectangle.
Place all pieces in a 275 degree oven and heat for about 2 hours. Flip all pieces upside down and heat for an additional hour. Cool completely.
Attach the legs to the body using Gorilla Glue. One of the nice things about Gorilla Glue is that it expands as it dries. So for some projects, this comes in very handy.  This is very convenient for this project as it fills in any spaces and creates a great bond. Allow it dry completely before you begin to paint.
While the bear is drying, start putting together the easel. Cut (2) 4 " pieces of the balsa wood, (1) 3 1/2″ and (1) 3 1/4″ piece for the tray. Paint all pieces brown. After they have dried, glue the pieces at the top with hot glue for an instant bond with the two longer pieces toward the front (like a teepee). Glue the tray piece to the front. Be sure the tray piece is straight and low enough to accomodate the blackboard.
Paint the 2 1/2″ x 3″ wood piece black. This will be the chalkboard. Glue this onto the easel using hot glue.
Using the acrylic paints, paint your bear any way that you would like. Mine usually have some sort of plaid going on, but that's just me. My bears are "styling and profiling".  You can do anything you like.
The books are painted different colors, adding white to three sides to simulate the pages. I then painted titles on them with white. This is another case where you can personalize it by the teacher's specialty.
Spray all bread dough pieces thoroughly with clear acrylic spray. Be sure to get all sides and underneath. I usually like to get at least three coats on. Bread dough can be fickle and absorb humidity. I live in Atlanta. Need I say more? If properly treated and cared for, these will last forever (I have some that are ten years old), but it is necessary to give them a good coat of acrylic sealant.
Sand and paint the base any color of your choice.  I went with creme so as to bring out the colors of the bears and the books, but I have done these with a brown stain and it looked good too.
For the pencils, cut several round toothpicks in half. Each half will make a pencil. I use a styrofoam ball sitting in a muffin tray to hold them while I paint them. Just push them slightly into the styrofoam and then paint them a bright yellow. When that dries, paint the ends gray. After that dries, paint the very end a pink for the eraser. Pull them out of the foam ball and paint the points black. Cute, huh? I loves me some miniatures…
The chalk is simply small pieces of the toothpicks painted white.
For the calculator, I cut a piece of balsa wood, painted it black and then added white keys. The ruler is also a strip of balsa wood, cut narrow and painted yellow with black hash marks.
Assemble the whole piece starting with the easel. I used hot glue to glue it down. Then used Gorilla Glue to glue down the teacher and the books. Keep in mind at this point the expansion of the glue. A little bit goes a long way. But I chose it specifically for the bond at this point. I suggest using it to glue down any of the bread dough pieces.  Use hot glue to glue down the rest of the pieces.
This project can then be personalized with the teachers name using white paint on the "chalk board". The teachers loved this. It makes a great gift and looks wonderful on their desk.
If you enjoyed this tutorial, you might like my Bread Dough Christmas Bear ornaments tutorial. Yep, I know. I'm a bit bear obsessed.  Folks who know me try to just overlook it.
Are you new to the Sitcom?  Be sure to check out my Frequently Asked Questions Page!
For over 100 more tutorials for all ages, be sure to visit my Tutorial Page!