Get the kids together with some blank foam coozies, foam stickers and a bunch of stick on gems and you just might be surprised at what they come up with!
This project was featured in Design Dazzle Summer Camp last month.  It is meant to not only entertain kids of any age, but encourage them to enjoy water in these hot summer days.  I mean, how can you pass up a blinged up coozie full of bottled water?  Seriously.
For this project I used:
Plain foam coozies (You can find them at your local craft store)
Duck Tape (comes in a variety of patterns and colors)
Foam stick-ons (a variety including pictures and letters)
Stick on jewels
Then, place everything in front of your kids and let them have at it!  (Since I don't have young children at the house anymore, my mother stopped by to give me a hand).
I have a large variety of Duck Tape, so we started out with that.  It is easy to add to the foam cup holders, and looks great.  A perfect start.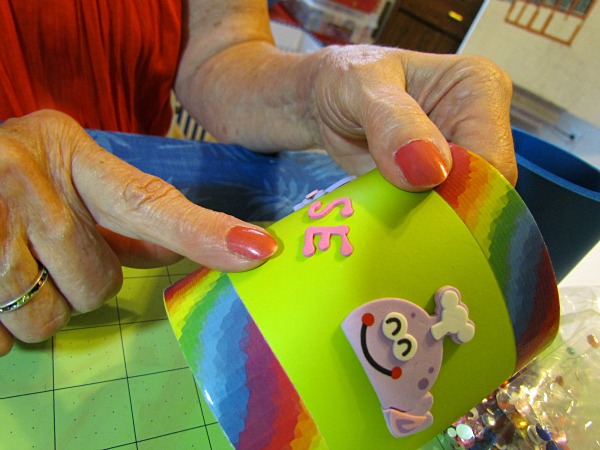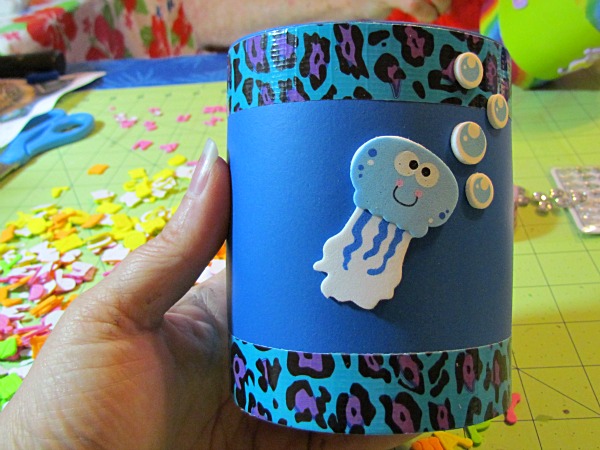 Then we decorated to our heart's content. As you can see, the possibilities are endless!  The kids will enjoy applying the foam decorations and everything is as easy as peel and stick.  A perfect activity for even the younger kids.
Of course, we have to have bling!
Honestly, even two grown adults had fun with this project.  I guess there is a bit of kid in everyone!
Stick some cool bottled water in your artistic coozies and there you go!  A cool summer drink and a bunch of bling.  Can't beat that!
—
Are you new to the Sitcom? Be sure to check out my Frequently Asked Questions Page!
Like more kids crafts?  Check out:
7 Fun Crafts for Summer from the Sitcom
7 Cool Spring Craft Ideas
Kids Crafts- A Class Takes on Metal Embossing