My mother is sharing some of her family recipes in this Pennsylvania Dutch recipe series.  Last time, she showed us how to make Apple Dumplings.  This time, we are looking at a Pennsylvania Dutch favorite- Shoo Fly Pie!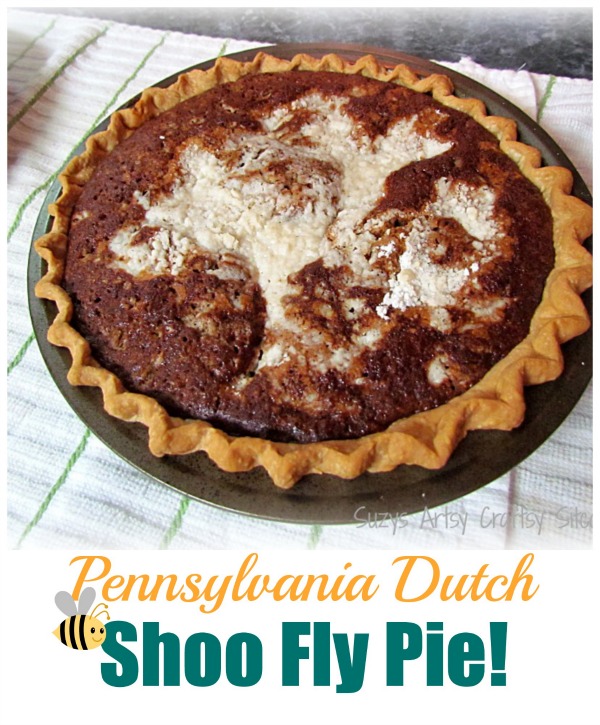 Don't let the name sway you.  Shoo Fly Pie is amazing.  It is made of molasses, sugar and flour and my mother's version has a delicious gooey molasses bottom. It is pretty darn awesome any way you fix it and is a must at traditional family gatherings like Thanksgiving.
Pennsylvania Dutch cooking comes from the parts of Pennsylvania that were settled by the Mennonites and Amish. William Penn (1644-1718), founder of Pennsylvania, was seeking colonists for the Pennsylvania area. Encouraged by his open invitation, the Amish and their brethren emigrated from Germany and Switzerland. The first group arrived in America around 1730 and settled near Lancaster County, Pennsylvania.
As these settlers came to North America by boat, they brought with them the staples of their diet -nonperishables that would survive a long boat trip. These staples were flour, brown sugar, molasses, lard, salt, and spices. Since they arrived in late fall, they had to live pretty much on what they had brought with them until the next growing season. The women, being master of the art of "making do," made a pie from their limited selection.  The result?  Shoo Fly Pie!
For this recipe we used:
Pie Crust (enough for three pies)
3 cups all purpose flour
1-1/2 tsp. salt
1 cup shortening or lard
9-10 tbsp. cold water
Pie Filling (for three pies)
1 cup shortening
1-1/2 cups sugar
3 cups flour
3 cups boiling water
2 cups molasses
3 tsp. baking soda
Mix shortening, sugar and flour together until crumbly.  Mom uses a pastry blender for this purpose.  It cuts the shortening into tiny pieces.  If you don't own a pastry blender, a fork works well.
Cut the shortening up into tiny pieces resulting in a crumbly batch of flour/sugar crumbs.
In a separate bowl, pour the boiling water and the molasses together and stir.  Then add the baking soda, and watch it fizz!  One of my favorite things to watch when I was a kid!
 For the pie crust
In medium bowl, stir together flour, salt and shortening, mixing with a fork until the shortening is broken into small pieces.  Add water a little at a time, moistening the dough until you can knead it with your fingers.
Divide the dough into three portions.  On lightly floured surface, roll out one portion until it is about 12 inches in diameter.  Gently ease it into a pie pan being careful not to stretch the dough. Trim it to fit.  Use your fingers as shown above to create a scalloped edge.  (The scalloped edge is optional, but sure does look pretty).
Don't they look fabulous?  Mom is an expert at pie making!
Divide the molasses mix between all three pies.  Then spoon the crumb mix over top, using up all crumb mix between all three pies.  Add more crumbs to the center of the pie than the edges, making an attempt to leave some white flour mixture showing.
Bake at 325 degrees Fahrenheit, for approximately 25 to 30 minutes.  This is what they look like going into the oven.
…and this is what they look like coming out!  You know they are done when a tooth pick inserted in the center comes out clean.
This is mom's work of art!  DELICIOUS!  Once the pies are cool, be sure to store in large plastic bags to keep the moist.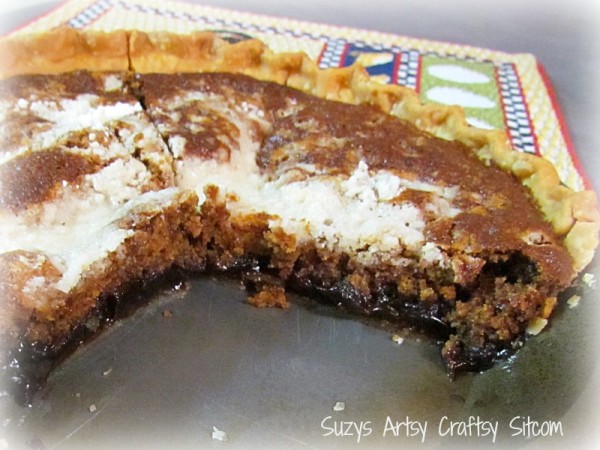 And check out the gooey molasses bottom!  If you love the flavor of molasses, you will love these pies!  A treat that has been handed down for generations!
Are you new to the Sitcom?  Be sure to check out my Frequently Asked Questions Page!
For over 200 crafty tutorials for all ages, visit my Tutorial Page!