I am thrilled to announce that two of my projects were featured in this month's edition of Kids Crafts 1-2-3 Magazine!  Currently on news stands, this edition specializes in too cool for school crafts  and offers tons of awesome kids crafts just in time for back to school!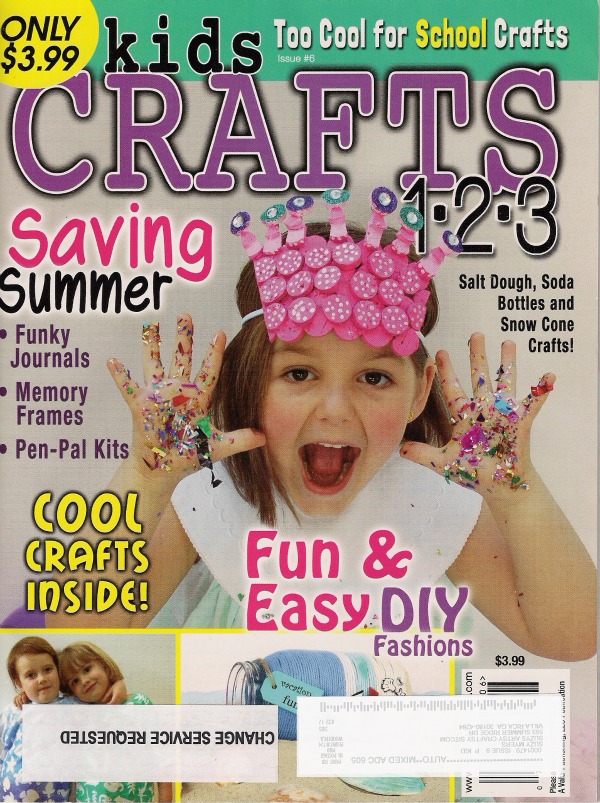 Kids Crafts 1-2-3 is a bi-monthly magazine and can be found exclusively at Walmart, Michaels and Barnes and Noble.  And I totally love the price!  For $3.99, you get tons of great ideas.
For this issue, I created cute Bear Refrigerator Magnets out of bread dough.  Perfect for hanging homework or awesome grades on the refrigerator!  I used the same technique that I used in my Bread Dough Bear Christmas Ornaments.
Also, I was asked to recreate my Iris Folded Book Covers to make them a bit easier for the younger set to create.
You can find the new patterns and instructions for these projects and many more in the current issue of Kids Crafts 1-2-3 magazine!  So be sure to check out the magazine rack next time you are at Walmart!
—
Are you new to the Sitcom?  Be sure to check out my Frequently Asked Questions Page!
For over 100 more tutorials and recipes for all ages, be sure to visit my Tutorial Page!
Also, be sure to check out my other website , Daily Holiday Blog for more great recipes!