Halloween is a fun time of year and the Sitcom has many popular projects for the holiday!  Here are the 10 most popular DIY Halloween projects according to my readers, all in one convenient place!
I don't do scary.  My version of Halloween is all cutesy with purples, greens, oranges, silly monsters, and fun pumpkins.  So if you are cool with the not so scary side of Halloween, you will enjoy these popular projects!
How about something colorful for your door?  I created a cute Halloween DIY Mummy Wreath using recycled paper towel tubes and a gourd.  My new mummy's name is Monty. Ever since my Paisley Chicken project, I've had a fondness for gourd crafts.  With quite a few stored in my closet, I thought it was about time I created something for Halloween.  This project is easy to make, takes very little time, and makes a cute welcome wreath for your door.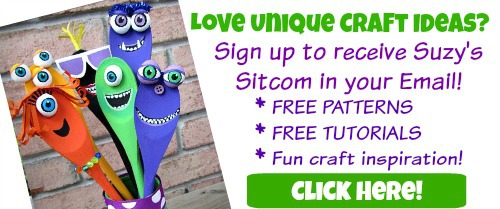 Create a whole mess of Jack O Lantern Tea Lights with Navel Oranges!  Scented with allspice, they make the whole house smell wonderful!  I found a way to combine the Halloween "scary-ness" with the natural scents of oranges and spices.
I created these cute Halloween Hooty Owls using some bright Halloween fabrics and FloraCraft® Make It: Fun® Foam.  It has a quilted look, but involves no sewing!  Perfect for brightening up your house for the holidays, these cute owls are my version of a non-scary Halloween.