This post is sponsored by Make it Fun: Crafts and Crafts 'n Coffee!
With the holidays upon us, I'm in full holiday decorating mode!  Thanksgiving weekend is traditionally the weekend that I start decorating the house up for Christmas and I love have new creative things to display.  This week I came up with something I bet you didn't know you needed!  I made DIY Holiday Macaroni Sheep with Make It: Fun® Foam and Rotini!  Perfect for a mantel or tabletop decoration!  Want to know how?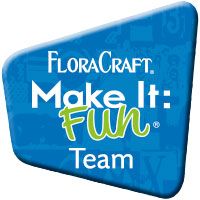 I am so excited to be chosen as a member of the FloraCraft Make It: Fun Team, and each month for the next few months, I have been challenged to create something with FloraCraft® Make It: Fun® Foam.
What a fun idea!
Be sure to check out my other FloraCraft projects:
All You Need is Love and Cupcakes Faux Pallet Art
Hooty Owls No Sew Wall Art
This time I was presented with a package of all types of foam shapes.  What could I make?  The thought occurred to me to glue a bunch of macaroni to a foam ball and make sheep.  Yep, I know.  My brain is definitely a unique place to live…
Anyway, the original plan was to create sheep ornaments to hang on the tree, but it turns out that a bunch of macaroni glued to a piece of foam is actually a bit heavy!  Who knew?
For this project I used:
FloraCraft® Make It: Fun® Foam 1″, 2″, and 3″ balls
FloraCraft® Smooth Finish
Rotini Macaroni
Low Temp Hot Glue
Wooden Skewers
3 buttons
White Spray Paint
Acrylic Paint in White, Black, Blue, Green, Pink
Scraps of Foam Board
Christmas picks and ribbons
I used an assortment of foam balls for the sheep family.  The dad got a 3″ ball for his body and a 2″ ball for his head.  The mom got a 2″ ball for her body and 2″ ball for her head, and the baby got a 2″ ball for his body and a 1″ ball for his head.
On the mom and dad, use a low temp hot glue gun to glue rotini macaroni onto their entire body.  Once both bodies are completely covered with macaroni, spray them with white spray paint.  (It may take several coats and you will need to get it from all angles).
Once the bodies are dry, use the low temp hot glue to glue the heads in place.  The baby's body does not have macaroni on it.  Simply glue a 2″ ball to a 1″ ball for the baby.  Cut skewers the appropriate length for legs for the mom and dad.  I cut them 3″ long for the dad, and 2″ long for the mom.  Use the low temp hot glue to glue in place.  For the baby, use four round toothpicks for legs- glue in place.
Spread the FloraCraft® Smooth Finish onto the heads of the mom and dad, and the head and body of the baby.  Allow about 24 hours to dry.
Glue a button on each sheep for a nose.  Clip small triangles from the scrap of foam board for ears and glue in place on all three sheep.  Paint the head, ears and legs black.
The next step is decorating them and giving them eyes!
To decorate, I used leftover Christmas ribbons and picks, clipping part that I wanted to use.
Add ribbons and decorate.  Paint in the eyes and add a bit of pink on the ears.
And your macaroni sheep family is now ready to grace your mantle or your holiday table!
—
I wrote this post as part of a sponsored campaign with Make it Fun: Crafts and Crafts 'n Coffee. The opinions in this post are my own.
Are you new to the Sitcom?  Be sure to check out my Frequently Asked Questions Page!
For over 100 more tutorials and recipes for all ages, be sure to visit my Tutorial Page!
Also, don't miss my other blog,  Daily Holiday Blog, where every day is a holiday!