Thank you to Artterro Eco Art Kits for sponsoring this awesome giveaway!  All opinions are my own.
I'm a huge fan of high quality kits and love the fact that the folks at Artterro allow me to try out their kits and tell you about them!  This week, I used Artterro's Canvas Storybook Kit and created an easy DIY Jewelry Travel Wrap.
Artterro's fun, eco-friendly craft and art kits are meant for children, but as you can see, adults love them too!  I love the fact that everything is there in one place and all I have to do is sit down and create.  Kids love these kits because they allow their imaginations to totally take flight!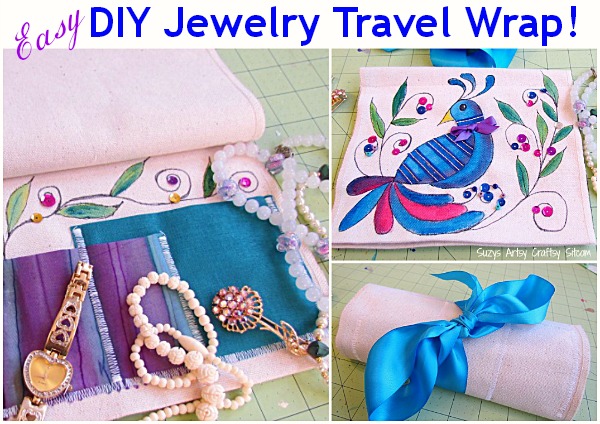 The craft kits from Artterro are not only all-inclusive, but contain high quality materials that are sure to inspire. Each kit challenges you or your child to create something amazing.  The end result is something that you and your children can cherish for years to come!
So, let's take a look at the Canvas Storybook Kit!  Handmade books are so very special!
Canvas Storybook Kit
Explore your story with fabric art! This kit allows you to combine gorgeous hand-dyed batik and solid cotton fabric with ribbon, beads, and artist quality acrylic paint to illustrate a unique canvas book!  The canvas book measures 6×8 inches and is very well made.  This particular kit is a multiple award winner, meant for ages 8 and up.
The Kit Includes: Blank cotton canvas book, hand-batiked fabrics, solid color fabrics, ribbons, artist-quality acrylic paint, brush, glass beads, wooden beads, sequins, craft thread, needles and an ideas sheet.  For this project, I also used white glue, a fine black sharpie pen, a sewing machine, and my Blue Bird Pattern.
You can download a free copy of it here: Blue Bird Pattern
Begin by transferring the pattern to the front of the book.  You can use carbon paper for this process.
 Choose four fabric squares that you love.  Each and every kit from Artterro is different- no two are alike, so you may have different fabrics to choose from!  Fold over the top edge of your fabrics and arrange the way you would like in order to create pockets for the jewelry.
 I made two different pages of pockets.  Pin the fabric down.
 Use a sewing machine set at a zigzag stitch and sew the pockets down.  As you can see, the overlapping pockets create a small narrow pocket in between!
These are the two pages of pockets once finished.
 Now onto the fun stuff!  Let's paint our bird!  The kit comes with high quality acrylic paint and a very nice brush.  Simply dip in water and start painting!
Have fun with your colors!  The kit instructions include tips on how to create more colors using your pallet of paints.  For the shadow on the bird, I added red over the blue, creating a purple.  For the leaves, I painted them in yellow first, and then added blue on top, creating green.  Once the bird is all painted, allow about an hour for it to totally dry before going to the next step.
Use a fine point Sharpie Pen to do all the outlines and bring out the design.
You could certainly stop here, but the nice folks at Artterro included so many beads, bling and ribbon, that we definitely need to dress this bird up!
I used white glue to add pieces of the blue ribbon to the bird.  See, he loves it!
I used white glue to add sequins, beads and ribbon to complete the beautiful blue bird.
On the inside pages, I free-handed more vines and leaves and decorated them with sequins.  Place pieces of paper between the pages and allow the entire book to dry.
To use, simply place your jewelry in the pockets…
 And roll up with a pretty ribbon!  (This particular ribbon was not included in the kit).
This pretty jewelry travel wrap is perfect for storing your jewelry when you are traveling!  (Small jewelry such as pierced earrings may get loose with this design).
If you have never visited Artterro's website, you really need to check them out!
They offer a nice variety of kits for all ages .  I love the variety and love the fact that these are craft kits that you won't see just anywhere.
Exclusively, for Sitcom Readers, Artterro is offering a giveaway!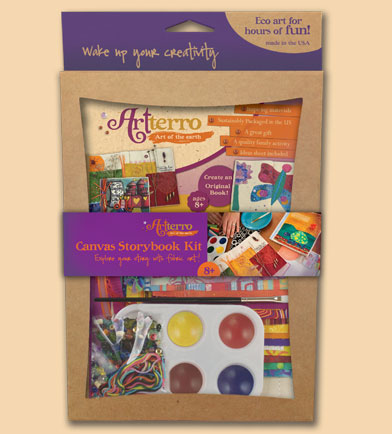 How would you like to win a Canvas Storybook Kit of your very own?
All you have to do is visit Artterro's website and come back and tell me which kit is your favorite.  Just leave a comment below for an easy entry! If you have Facebook, you can add an optional entry by "liking" Suzy's Sitcom Facebook page.   Contest ends on Monday, February 24, 2014 at midnight EST.  
a Rafflecopter giveaway