With the kids home for the holidays winter break, and even with lots of new toys around the house, you may still hear the inevitable, "I'm bored". And here are a few ways to keep those little hands busy, and industrious. And just maybe you might have a little fun yourself. You never know!
These crafts are simple enough even for the younger kids, but interesting enough that the older one just might set down that cell phone and take notice!
Have the kids create beautiful sand art without the sand!  This simple tutorial uses basic ingredients found around the house and will keep the kids busy for hours!  You can find the full tutorial at Flax & Twine.
What a cute idea!  Gather some stones and some acrylic paints and have the kids create their own tic tac toe games!  You can find a tutorial Here!
Create cute stamps using bottle tops and foam cutouts.  A great idea for thank you cards for all those gifts!  The kids will have a blast creating with these reusable stamps.  You can find a full tutorial at Vanessa's Values.
For the younger set, there is a great selection of art ideas from Krokotak using paper plates.
A very cool technique for transferring crayon drawings onto fabric.  Easily done with sandpaper, crayons and an iron!  Check out Alphamom for a simple tutorial.
And finally, how about a crafty idea for some of your leftover boxes?  Check out MiniMocha for detailed instructions on this little plane, and many more crafty ideas!
Want to try your hand at quilting?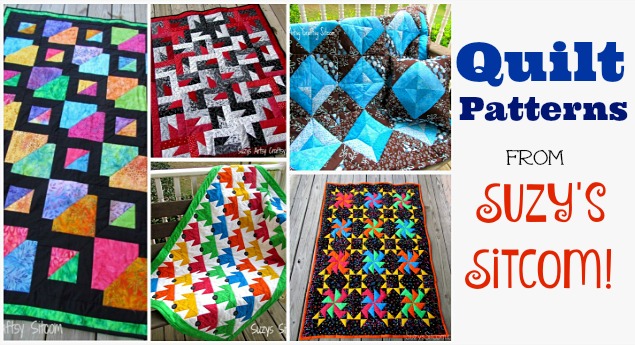 Are you new to the Sitcom?  Be sure to check out my Frequently Asked Questions Page!
For hundreds of tutorials for all ages, visit my Tutorial Page! 
[activecampaign form=1055]