I love it when I get mail from readers with photos of their amazing projects inspired by the Sitcom!  Over the past few weeks, I received quite a few and wanted to share them with you.  We have a beautiful quilt, inspired by my Batiks Gone Wild Quilt Pattern, Faux Stained glass created by a class of children, and a new look at Popsicle Stick Bracelets!  Come see!
Batiks Gone Wild Quilt Pattern
This fabulous quilt was submitted by Sally Bush.  Sally said, "I finished the full sized quilt pattern that you generously sent me after I purchased your lap size.  Here is a picture of it. I did notice that mine are going in the opposite direction! Oh well, it's original!!!!!"  
Sally did a wonderful job!  The original pattern, Batiks Gone Wild, was created for a lap quilt and Sally wanted to make hers much larger.  If you choose to make any of my patterns larger and need some help with it, just let me know.  I can supply some fabric requirements and instructions for the larger sizes.  
Faux Stained Glass
Reader, Mariva Kovalyoy sent the following email: "I am an artist, illustrator and an art teacher for a small local group of kids.  I love your site, and think it is absolutely wonderful.  Recently I was planning a lesson for Louis Comfort Tiffany to do with my own kids as well as the class.  I was naturally going to do a stained glass window.  At first we were going to use transparencies with tissue paper and a permanent marker, but once I saw your tutorial, I fell in love with the idea of fake lead using glue and black paint". 
"Often, after I do a class, I describe it in detail and put it on my website, so that other parents, teachers and kids can do it as well.  I did the same with the L.C. Tiffany lesson.  I also used regular acrylic paint to paint in the windows instead of glue.  Please take a look at how some of our stained glass windows turned out.  Happy Family Art- Tiffany Stained Glass Art Lesson.  
Popsicle Stick Bracelets
Reader, Vera, says, "I have a stamping blog and live in The Netherlands.  I like to make everything from stamping to polymer clay; as I can "tinker". My grandmother used to come every Sunday to visit us and we embroidered, knitted, crocheted, etc. One day I discovered stamps (accidentally), and now I work mainly in crafts, jewelry making and Fimo clay.  
I saw your Popsicle Stick Bracelet tutorial and loved it. The tutorial inspired me to stamp on the bracelet". You can find Vera's post here: Impress Stamp Bracelets
Sitcom Projects that Inspired…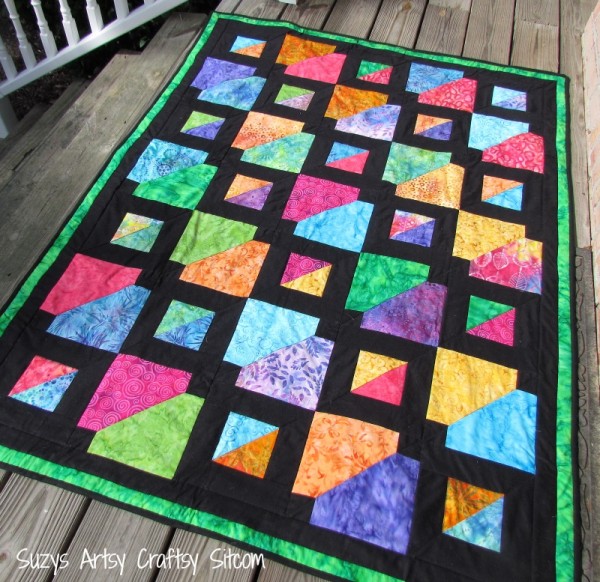 My latest quilt pattern, designed especially for the beginning quilter!  This pattern goes together quickly and is surprisingly simple to put together.  Using beautiful batiks from Discount Sewing Supply, the vibrant colors are perfect for spring and summer!
Make faux stained glass with just acrylic paint, white and clear school glue!  Minimal supplies, and the end result is something you can add to your home decor!  This is a great project for the kids, using coloring book pages for patterns.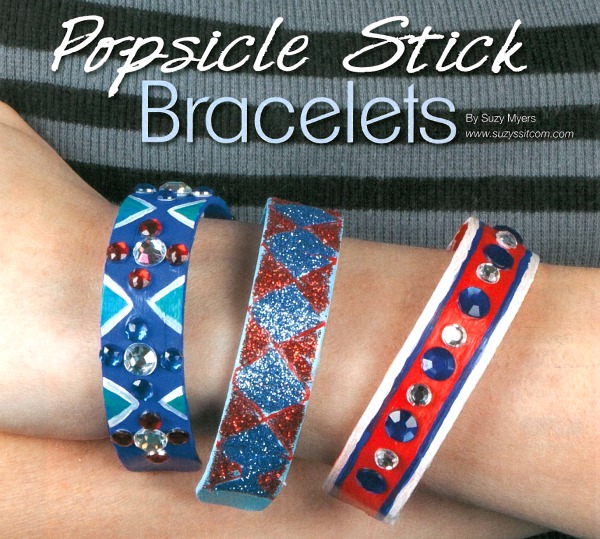 Bet you didn't know that you could bend a popsicle stick into a bracelet!  This fun tutorial is great for adults and kids alike.  And decorating them is the best part!
Inspired by a project from the Sitcom?  Send me a photo at suzy@suzyssitcom.com, and you could be featured on the Sitcom!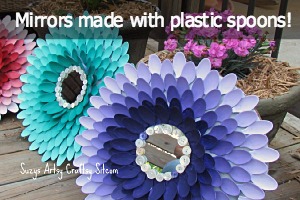 Are you new to the Sitcom?  Be sure to check out my Frequently Asked Questions Page!
For over 150 crafty tutorials for all ages, visit my Tutorial Page!