I know Halloween is a little way off yet, but those that have big Halloween parties are already making plans.  So I thought I'd share with you a fun idea I had for easy DIY scratch-offs to give out prizes at your party!
I created a free printable for you to download and I'll show you how to make your own scratch-offs with paint and dish detergent!
My sister throws a huge party every year, and she is always looking for ideas.  Me, I'm not a fan of scary.  I usually go with cute for Halloween with projects like my Jar O Monsters, and my Mummy Wreath.
So, instead of scariness, I came up with a cute scratch off idea.  Want to know how?
Affiliate links to Amazon below:
For this project I used:
White Card stock
Dish Soap
Acrylic paint
Cellophane tape
Begin by printing the Halloween Scratch off Printables on white card stock.  One page are winners and one page are losers.  Print however many of each that you would like.
Cut out the individual cards.
Use a small lidded container to mix your paint for this project.  It usually takes several coats, and that way you do not have to remix your paint each time.
Add your paint to the container and mix in dish soap- 2 parts paint to one part dish soap.  IMPORTANT: Use cellophane tape to tape over the three prize squares on each cards.  (This will protect your graphics when scratched)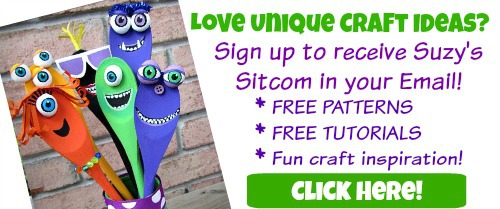 Paint over the cellophane tape with the paint/soap mixture.  Add a thick layer and allow it to dry.  Then paint a second layer.
And your cards are ready to go!  Give them out at your party and then offer up prizes for those that win.  This is a unique, fun idea that is sure to be a hit!
Creating scratch offs is a great crafty idea using dish soap and acrylic paint. Think about all the possibilities.  How about homemade birthday cards with a special message under the scratch off.  Maybe a chore chart for the kids where they scratch off their chores?  Gender reveal cards? Or how about a cool gift card for the hubby with fun things to do.
Are you new to the Sitcom?  Be sure to check out my Frequently Asked Questions Page!
For over 200 crafty tutorials for all ages, visit my Tutorial Page!