You know I'm a huge fan of creating from recycled materials.  I've made fun wall art from toilet paper tubes, art from recycled disposable aluminum pans, suncatchers from lids, and even art from magazine pages.  Today I'm going to share with you a project that I created from an old rake head.  A Santa Rake Door Greeter!
 Recently, at a flea market, I ran across a whole bunch of old metal rake heads without the handles. After staring at them a bit, I bought the batch of them and put them aside for inspiration. And then suddenly, I saw Santa whiskers and it was all downhill from there!  Soon, a Santa Rake Greeter came to be.  Want to know how?
For this project I used:
One used metal rake head
White metal spray primer
Red and White and Light Pink Acrylic Paint
Two black buttons
One 3″ diameter styrofoam ball
One wooden oval plaque (about 6″ x 4″)
Scrap of Foam board (about 3″ x 12″)
One Christmas Floral Pick
One small red plastic ornament
Smooth Finish by Flora Craft (or fake snow)
Clear Glitter
Glue (made for metal such as E6000)
Begin by spraying both sides of the rake head with white primer spray paint meant for metals. Allow to dry.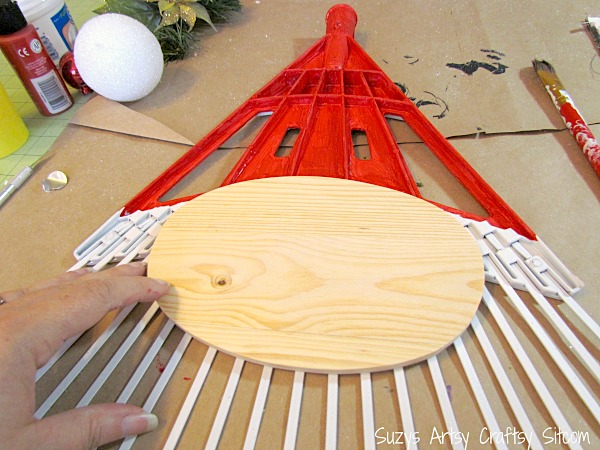 Paint the pointed part of the rake red with acrylic paint for the hat. (It may take several coats)
Paint an oval wood piece light pink, adding blended dot of red for the cheeks while the paint is still wet.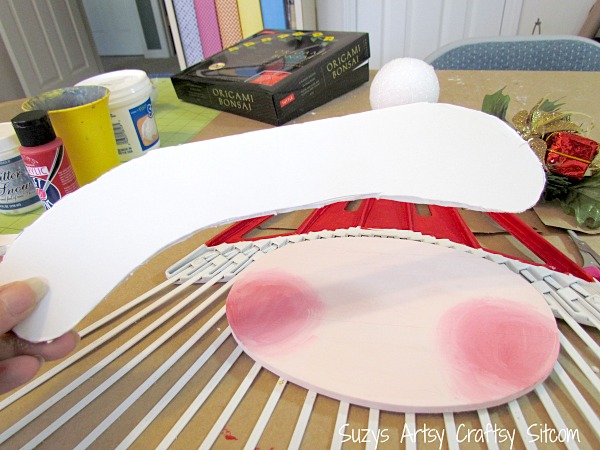 Glue the wood oval in place with glue meant for metals such as E6000.  (You can find it at most craft stores for just a few dollars for a nice sized tube).  Cut a piece of foam board for the trim of Santa's hat.  Draw out what you want first, but it needs to be long enough to fit the base of his hat and about 3″ wide, cut in a slight arch.  Glue the hat trim in place, overlapping the top of the oval face.
Glue on the button eyes, small ornament nose and floral pick.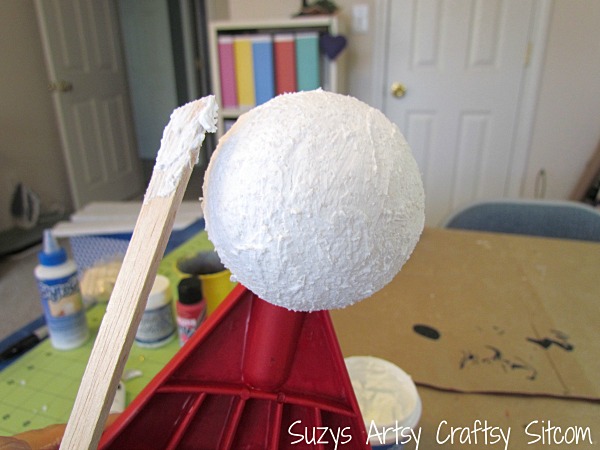 Cut a notch in a 3″ Styrofoam ball to fit over the top of the rake point and hot glue in place. Cover the Styrofoam with Smooth Finish by Flora Craft or any type of spreadable fake snow. Sprinkle with glitter.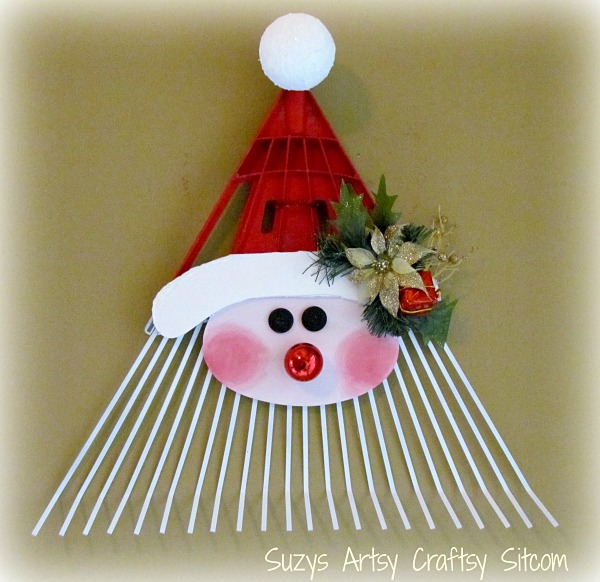 Wrap a red long pipe cleaner through the holes of the rake in the hat area to create a loop for hanging.
And there you have it!  A cute rake head santa!!  For more recycled crafts, be sure to check out my Recycled Crafts page. One person's trash is another's treasure.  What cool things have you made from recycled items?
 The kids will love this project and you can teach them a bit about recycling at the same time!

Are you new to the Sitcom?  Be sure to check out my Frequently Asked Questions Page!
For over 200 crafty tutorials for all ages, visit my Tutorial Page!