This shop has been compensated by Collective Bias, Inc. and its advertiser. All opinions are mine alone. #ShareFunshine #CollectiveBias
We have been in Maine for three months now and the one thing I miss the most from Georgia is my family.  So we were very excited when my daughter, sister, mother, sister-in-law, and mother-in-law decided to make the long trip up to visit!  Which of course meant sight-seeing, lobster, campfires and M&M's® S'mores!
It was so much fun to see them again!  Of course, we had to show them around!  Our first stop was the top of Cadillac Mountain in Acadia National Park. Cadillac Mountain at 1,530 feet, it is the highest point along the North Atlantic seaboard.  A perfect place to show them some of the beautiful sights of the coast of Maine!
From the top of Cadillac Mountain, you can see the entire island of Mount Desert Island, the town of Bar Harbor, and the expanse of the Atlantic Ocean.  It is a beautiful sight to see and we loved sharing it with them!  Photos never seem to do it justice, and they really enjoyed seeing it in person!
We then took them to Hadley Point where we went mussel fishing at low tide.  The Georgia brigade purchased boots just for this!  Mussels can be found attached to the rocks under the seaweed when the tide goes out.  This particular area has thousands of them.
We let them sit in cold water and corn meal overnight to get most of the sand out of them, and then boiled them in wine, chicken stock and garlic.  Yumm!
Of course, you cannot go to Maine without a taste of lobster!  The campground that we work at, Bar Harbor Oceanside KOA, has their very own lobster man!  He serves fresh lobster dinners every evening from his tent in the middle of the campground.
I was able to teach them my method for eating a whole lobster.  (A bit of trial and error on my part).  You can read the story about my ridiculous first attempt at lobster eating here.
My sister caught on pretty darn quickly!
We then sat around a campfire and enjoyed another beautiful sunset.
Of course campfires wouldn't be campfires without s'mores!  And we were totally prepared for that. I had been pondering how to best feed a crowd with some fancy s'mores.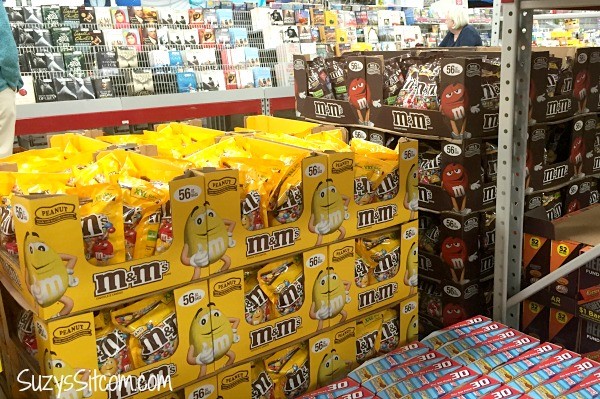 When perusing Sam's Club last week, we came across these XXL bags of M&M's® candies!  The bigger XXL bags are available in all three varieties: M&M's® Original, M&M's® Crispy, & M&M's® Peanut.  Perfect for a large crowd and perfect for some fancy M&M's® S'mores!
Want to know how to make them?
Simply put all of your ingredients on a plate.  I used graham crackers, marshmallows and M&M's® Original.  For a fun variation, you could also use M&M's® Crispy, or M&M's® Peanut!
Of course some of them didn't make it to the campfire.  LOL!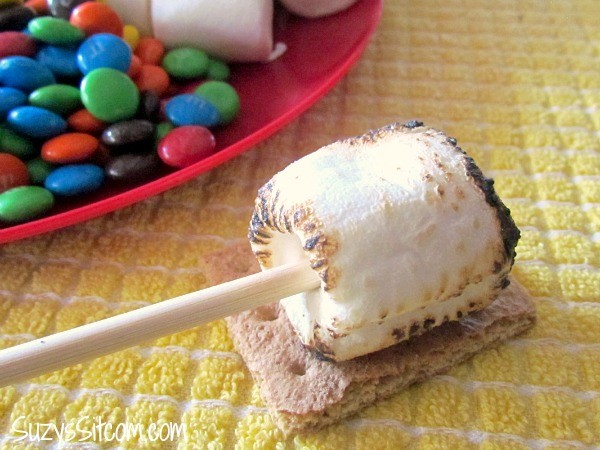 Anyway, toast your marshmallow as dark as you like it over the campfire.  Place it on a graham cracker…
Add your choice of colorful M&M's® candies!
Then top with another graham cracker!  Yummy, colorful s'mores in no time!
We had so much fun with the family here and were able to show them just a bit of the sights and experiences of this beautiful part of the country.  Our new lifestyle is exciting and we very much love our decision to take a chance and start traveling, but seeing the family again will be one of the highlights of our summer.
We will be working here at the KOA until October and then be moving on to the next gig.  Where that is?  Well we do not know yet!  That is part of the fun!
Want to follow along on our journeys?  Check out my other website, The Traveling Sitcom!
Are you new to the Sitcom?  Be sure to check out my Frequently Asked Questions Page!
For over 200 crafty tutorials for all ages, visit my Tutorial Page!