We've done a ton of grill cooking since we started our traveling adventure.  I love cooking on the grill.  There are less dishes, the food has fabulous taste to it, and best of all, the husband takes over!
It is the best of all worlds, right?
For some of us, campfire and grill cooking can be intimidating.  So let's look at some easy recipes that make cooking fun and a few of the tips that we have learned along the way.  We are still new to this, and learn things the hard way.  But there is adventure to be had!
Campfire Breakfast Potatoes from Dirty Gourmet.
Grilling Tips and Camping Tips
A great time saver is to measure your ingredients for each meal ahead of time and pack in ziplock bags. Label each bag accordingly.
While cooking on the grill or over a fire, cover your pot.  Food not only gets done more quickly, but you save on fuel and keep the insects out!
Heavy duty aluminum foil is a must for a good campsite.
Mexican Grilled Chicken and Avocados from Suzy's Sitcom
To protect your pots from damage, put liquid soap on outside of your pots and pans before putting over the fire.
Want to keep the food in your coolers cold longer?  Add cans of frozen juice!
For a quick meal, prepare soups, stews or chili ahead of time and freeze in individual servings.  Reheat and you have a great meal!
Grilled Pizza from Suzy's Sitcom
To avoid unwanted visits from animals, keep food stored away or hang above ground level.
To keep your soap clean, put it in a sock and hang it from a tree!
Add a pan of hot water to the grill while you are eating.  Perfect for clean up later!
Use baking soda to remove odors from your coolers.
Campfire Monkey Bread by Real Family Camping
Add powdered sugar to your marshmallow bag to prevent them from sticking together!
Pre-chop ingredients such as onion, peppers etc at home. Pack in ziplock bags.
Pre-cook select meats and freeze for quick meal preparation.
Tangy Barbeque Pork Chops from Suzy's Sitcom
Use squeeze margarine.   This squeeze bottle is much easier and cleaner to use when in the woods. It is also great for cooler temperature.
Use disposable water bottles to store salad dressing, oils or sauces.
Breakfast Scramble by Apple Tree Deals
To easily remove burnt on food from your skillet or pan, simply add a drop or two of dish soap and enough water to cover bottom of pan and bring to a boil.
Grilled Salmon and Rosemary from Suzy's Sitcom
Ultimate Smores by My Recipes.com
Turkey Bacon Grilled Chicken by Twin Dragonfly Designs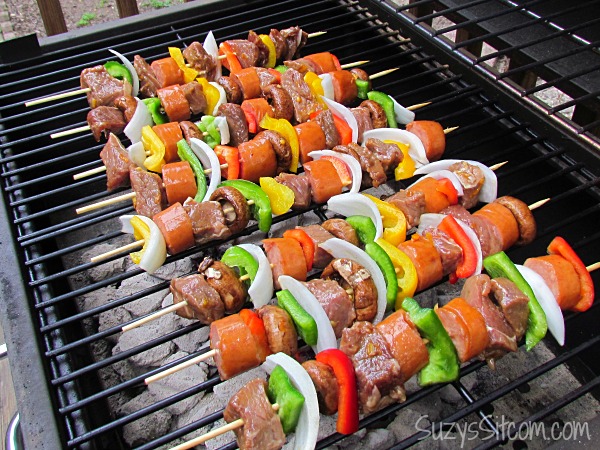 Teriyaki Orange Beef Kebabs from Suzy's Sitcom
Blueberry Oatmeal Pancakes by Today's Parent
Smores Bar by Martie Knows
Grilled Honey Cumin BBQ Pork Packs by Tablespoon.com
Bacon Wrapped Slaw Dogs from Suzy's Sitcom
Camping Macaroni and Cheese by Munchin with Munchkin
Camping season is a great time to relax and not stress so much over things like cooking.  Do you have some more great tips for camping and cooking?
Are you new to the Sitcom?  Be sure to check out my Frequently Asked Questions Page!
For over 200 crafty tutorials for all ages, visit my Tutorial Page!