With summertime in full blast and picnics, barbeques, and family gatherings going on, I'm betting there is a lot of watermelon involved.  A few years ago, I challenged a group of bloggers to come up with a watermelon recipe or watermelon themed craft project that they would like to share.
And they had a bunch of fabulous ideas!  Here are 17 great watermelon craft and recipe ideas to celebrate the last days of summer with!  That's a whole lot of watermelon!
Ashley from Ashley's Dandelion Wishes took this challenge on and created a beautiful Summery Watermelon Salad.  I'm loving the addition of raspberries.  You can find the full tutorial and recipe at Ashley's Dandelion Wishes.
Heidi from Mom's Crafty Space, created these cute watermelon tins.  Perfect for transporting cookies to that next family gathering.  Or maybe for holding crafty supplies?  Well, I'm sure I could come up with a few things to store in them!  You can find the tutorial for this cute project at Mom's Crafty Space.
Love this!  Carolina from 30 Minute Crafts , created these cute watermelon plates.  Very sweet!  These would be perfect for that next summer picnic.  You can find the full tutorial for these plates at 30 Minute Crafts.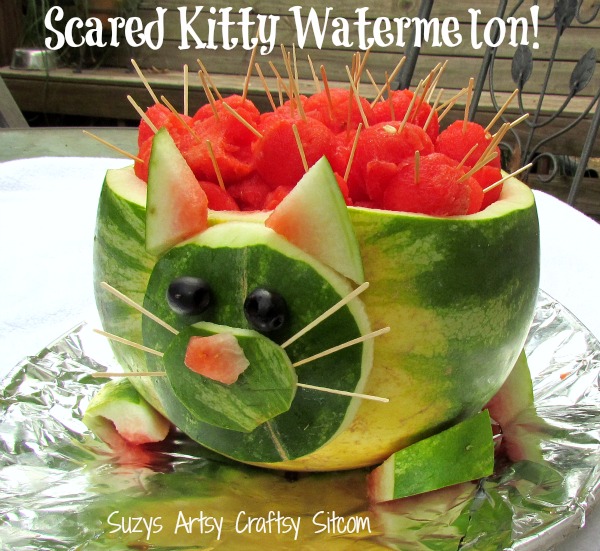 It all started with a phone call.  Big family gathering.  Lots of food.  Can you make baked beans?  And how about this cute porcupine watermelon we found on Pinterest? As you can see, the porcupine turned into a scared kitty.  Want to know how to make him?
We have a Watermelon Inspired Outfit!  A cute watermelon t-shirt with matching headband.  Adorable!  You can find the full tutorial at Craft Quickies.
Now this is just amazing!  Watermelon wrapping paper by Brenda Bird.  Very sweet printable for all your summer occasions!
Summer (whose name is very appropriate for this challenge), came up with this very cute watermelon trio!  Perfect for a summer mantle!  You can find the full tutorial at Summer Scraps.
Paula from Sweet Pea, created this cute Watermelon Headband!  Love this!  You can find the full tutorial to create this cute headband at Sweet Pea!
Rhonda from Mrs. Greene came up with the Grilled Watermelon with Mint Honey Glaze recipe.  Yumm!  Grilling a watermelon has never occurred to me.  Definitely something to try.
Colleen from Just Paint It created this cool Watermelon Banner using a placemat!  What a pretty summer wall hanging!  Colleen supplies a full tutorial on how to paint on of these yourself!
I created some Sweet Watermelon Hand Towels using RIT Dye and felt!  You can find the full tutorial and free downloadable pattern for my Bird and Watermelon here!
Let's look at cool summer drinks!  Check out this amazing looking Summer Watermelon Mojito!  Oh wow.  What a great way to celebrate the watermelon!  Created by Lindsey at Red Head Baby Mama.  You can find the recipe and tutorial at Red Head Baby Mama.
Gina from Kleinworth Co. made this awesome looking Watermelon Cherry Limeade!  Perfect for a hot summer day, and I love the cute skewers of fruit.  The perfect touch!  You can find the recipe at Kleinworth Co.!
How about Watermelon Feta Salad?  AMAZING!  Debbie from One Little Project is a great cook, so be sure to check out this yummy recipe.  You can find it at One Little Project.
Watermelon Ice Pops from Eat Yourself Skinny!
Here is a fun idea from Gloria's Treats- Watermelon Rice Krispie Treats!  Cute summery fun!
And finally, let's check out this amazing work of art and fun video!  A Red Velvet Watermelon Cake…
Created by the amazingly talented and hilarious Yolanda Gampp. This is… HOW TO CAKE IT!
Yolanda puts out new fun videos every Tuesday!
Which watermelon project is your favorite?
Are you new to the Sitcom?  Be sure to check out my Frequently Asked Questions Page!
For over 200 crafty tutorials for all ages, visit my Tutorial Page!