This shop has been compensated by Collective Bias, Inc. and its advertiser. All opinions are mine alone. #SamsClubMag #CollectiveBias
Since hitting the road in our RV nearly a year ago, the hubby and I have vastly improved our health.  Going from sedentary jobs to much more active ones has enabled us both to lose weight and I am now totally off of my blood pressure medication!  Awesomeness.
But there is always room for improvement.  With that in mind, we are working at improving our daily activity even more.   In case you have the same plan, I put together 20 fun ways to incorporate more walking into your daily routine!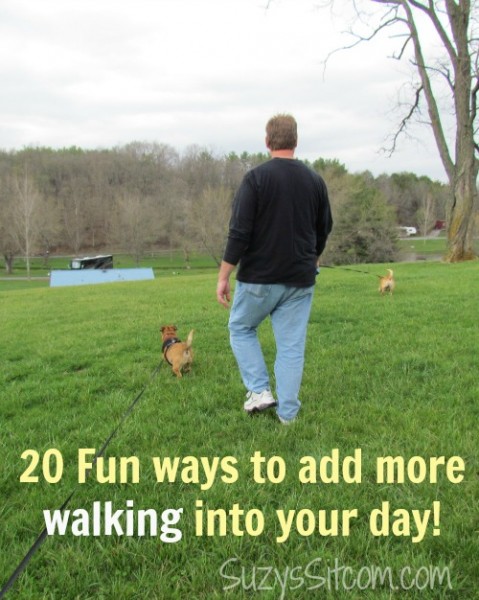 Did you know?
Walking just 30 minutes a day, 3-4 times a week can:
Improve your cholesterol
Lower blood pressure
Help you lose weight
Increase your energy and stamina
Improve the health of your heart and cardiovascular system
And the great thing is walking is low-risk and easy to start!
Here is a fun idea!
A few years ago, my husband and I ran across a great hiking book for our area.  I thought it might be fun to put the name of each hike on a popsicle stick along with the hike number.
The sticks are color coded with the easiest hikes in green, the most difficult in red. Each week, my husband and I drew a stick from the jar and did the hike.   You can find some more information and photos of our hikes here.
Want some more easy ways to get walking into your routine?  
How about regular mall walking?  Walking the perimeter of upstairs and downstairs at our local mall combined is 1 mile!  Check the website of your local mall- often they have mall walking programs and will list the mileage!
Nice evening?  Walk around the block!
Park further away from your destination.

If you ride the bus, get off at an earlier stop and walk the rest of the way.
Don't send that email!  Get up and find your co-worker and tell them yourself!  Extra credit if you have to take the stairs!

Go window shopping
Dogs love to go walking.  Even my lazy little pugs love a nice stroll.   Take them for a walk!

Bringing in the groceries?  Make it into a walk.  Bring in one bag at a time.
Take the stairs!  Instead of elevators or escalators, get a bit of exercise into your daily routine.
Join a walking group.  Check your local paper or city website for local groups in the area.
Tons of business meetings?  How about a walking meeting?  Your co-worker just might love the thought of getting outside too.
Walk during your lunch hour.

Walk and talk on the phone.
Consider dance lessons or an organized activity that makes you move!

Walk for charity!  Check your paper.  Most weekends you can find a charity walk somewhere!

Going grocery shopping?  Walk the inside perimeter of the store once before you start to shop.  Park far away and be sure to walk the car back.
Skip the drive-through.  Park at a distance and walk instead.
Keep an eye out for local parks.  You might be surprised at some of the nice places to walk near your house or work!
Bring the camera and go on a nature walk!
Change up your routine.  Don't walk the same path every day.  Switch it up some!
Finding ways to fit more walking in your routine is an easy thing to do.  And did you know that Sam's Club offers everything your family needs to stay healthy?  Yes, they have a pharmacy!  And they also offer Optical, Hearing, and over the counter medications.
Free Health Screenings
Oh, and don't forget free health screenings!  This is super handy while we are on the road!
We love the fact that no matter where we go, there is a Sam's Club nearby to depend on for our health and wellness needs.
And did you know that Sam's Club also features an online Healthy Living Made Simple Magazine?  Lots of great health articles including one on getting the best results using a step tracker.  The American Heart Association recommends setting a goal of 10,000 steps per day as a benchmark for improving your health.  Now is the time to start!
To find out more information about the Sam's Club pharmacy and all it has to offer, click here!
What are you doing this year to get in better shape?
Are you new to the Sitcom?  Be sure to check out my Frequently Asked Questions Page!
For over 200 crafty tutorials for all ages, visit my Tutorial Page!