I was given copies of these Origami books to review.  Affiliate links to Amazon below.
Paper is a fun medium to work with.  I love the fact that it is a very inexpensive craft. Generally, I do paper quilling.  Some of my most popular paper projects on the Sitcom are my Quilled Monogram, Quilled Butterfly in a Jar, and Quilled Starry Night.  Unlike quilling which consists of paper coils, Origami is the art of folding paper to create unique shapes.
This week, I'm reviewing two great origami books, Origami Boxes Super Paper Pack
 and Origami Flowers Super Paper Pack
 by Maria Noble.  Both books have easy step by step photos, and each supplies you with a nice big stack of beautiful paper to work with!
I used my books to create this pretty paper flower sculpture, sitting in it's own paper folded box.  Yes, I know it is winter, but isn't a pretty paper flower in the windowsill a nice distraction from the wintry weather?
Love unique origami ideas?  Well these two books not only show you how to create beautiful floral masterpieces out of paper, but also supply the colorful paper to make them with!
The Origami Flowers Super Paper Pack includes complete step-by-step instructions for tulips, lilies, roses, and other flowers, contained in a removable 32-page booklet.
The pack also includes 464 sheets of beautiful origami paper, printed on both sides, in nearly 40 different colors and patterns!
I was immediately drawn to these pretty tulips.!
The Origami Boxes Super Paper Pack features 10 box designs and over 200 pages of double-sided origami paper.  Perfect for thinking "outside the box" with your origami!
This pack includes step-by-step instructions for 10 origami boxes of all shapes, some with lids and some self-closing, and 464 sheets of origami paper in more than 30 different colors and patterns, printed on both sides, and bound into the book for easy removal.
I was perusing the Origami Boxes Super Paper Pack, when I found it…the project that needed to be made.
After some thought, I finally chose the pretty paper that I wanted to work with and began the folding process to make my little box.
Would you believe this little box is made from one sheet of origami paper?  No cutting.  Just fold away!  The instructions were easy to follow and I love the fact that I have so much paper to choose from!
To fill it with flowers, I went back to the Origami Flower book and chose a pretty red paper.  Each flower takes just one sheet of paper to make.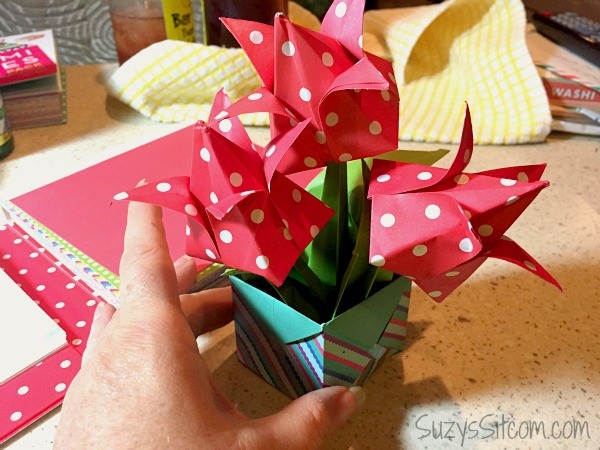 The instructions even included how to fold up green origami paper to create the leaves and stems!  My tiny little centerpiece came to life in no time!
Are you new to the Sitcom?  Be sure to check out my Frequently Asked Questions Page!
For over 200 crafty tutorials for all ages, visit my Tutorial Page!