I want to thank all of you for being so awesome this year.  It has been a year of change for me and my husband.  In April of 2015, we sold most everything we owned and hit the road in our RV as full time travelers.  This meant that we were very dependent on the success of the Sitcom, Daily Holiday Blog and The Traveling Sitcom.
Without you, Suzy's Sitcom would just be another place on the web.  You are what makes it so special!  We both want to thank you for hanging in there with us!
Lots of fun ideas, lots of crafting, lots of great recipes and so much more happened here this year!  Many new things are in progress.  Living on the road has certainly not stopped any of that.  The year 2016 looks to be just as exciting as the last.
But first let's take a look back at 2015 and check out the most popular tutorials for the year.
Top 12 Craft Tutorials in 2015
I love to peruse my vintage craft books and bring back ideas that seem new to some.  And I stumbled upon an idea to create faux stained glass using only acrylic paint and glue.  What is great about this project is that you can make it as simple or as complicated as you like.
This project has been in my top ten ever since it was published in 2011.  Due to it's popularity, I have created a pattern book with this design along easy to make DIY Kits – both available in my Etsy shop!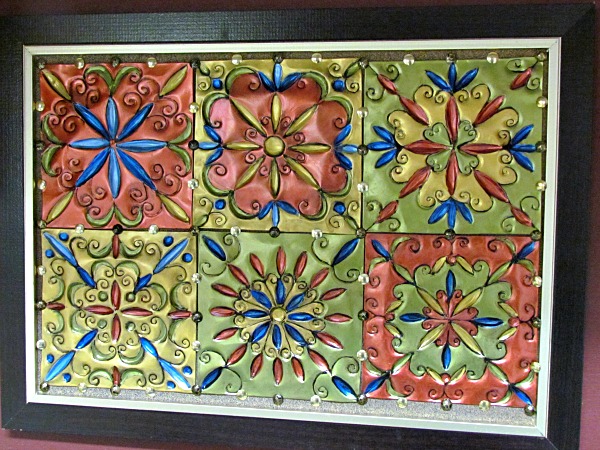 There are many projects now on the Sitcom that are created from disposable aluminum pans, including: The Enchanted Fish, Sleeping Mermaid, Winter Fairy, and The Partridge & Pear. But by far, my most popular pattern and tutorial for 2015 was the original Faux Tin Tiles Tutorial.
And yes, they are made from disposable aluminum cookie sheets!  The tutorial includes 12 free patterns for you to download too!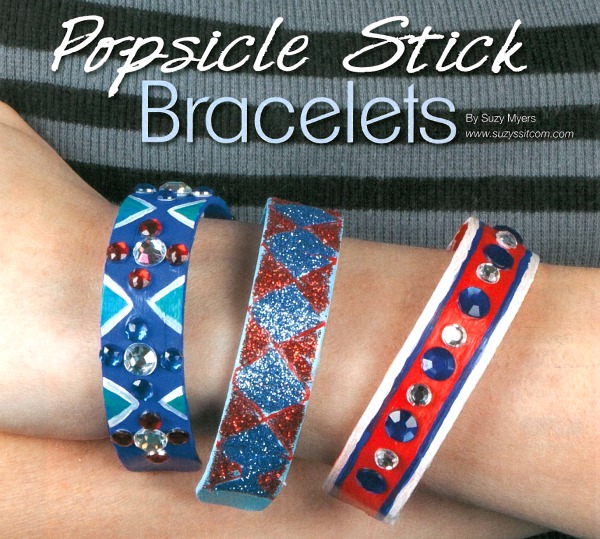 I was looking through my vintage craft book collection and ran across a 1970 Pack O' Fun magazine. They had instructions on how to take a simple popsicle stick and turn it into a bracelet.  I'm always happy to try and take a good idea and run with it.  This is a great project for the kids and for adults too!
I just love the look of vintage RV's!  Fun, quirky fabrics work well with this project.  I picked a few fabrics that were brightly colored and worked well together.  This project doesn't take a ton of fabric.  A fat quarter of each color should work well to create both pot holders.  You can find the free pattern here!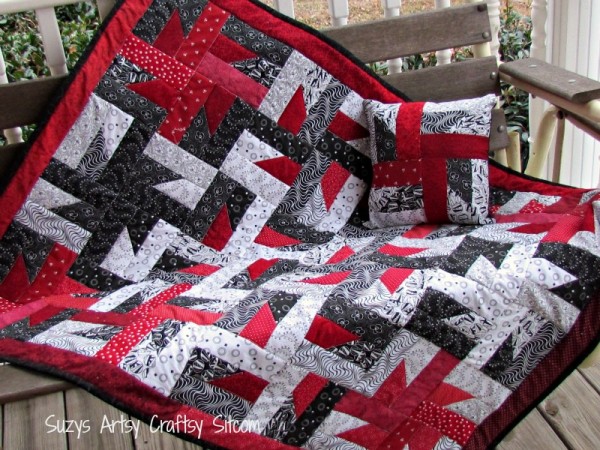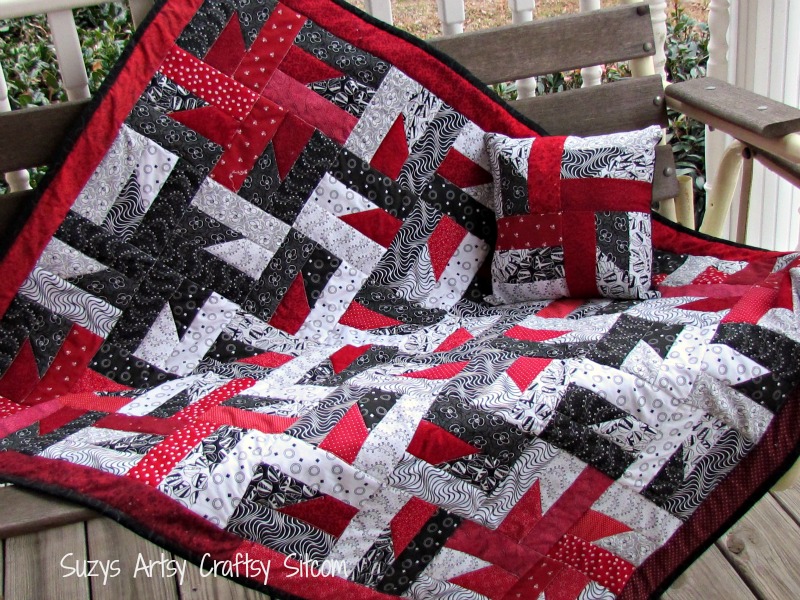 My most popular quilt pattern is called Windmills at Night.  I designed it specifically for beginning quilters, using pre-cut fabric strips called "jelly rolls".  The bright red fabrics touch off the black and white fabrics beautifully, and this striking lap quilt will make a fabulous addition to your decor. This pattern is available as an quick 13-page download for just $4.99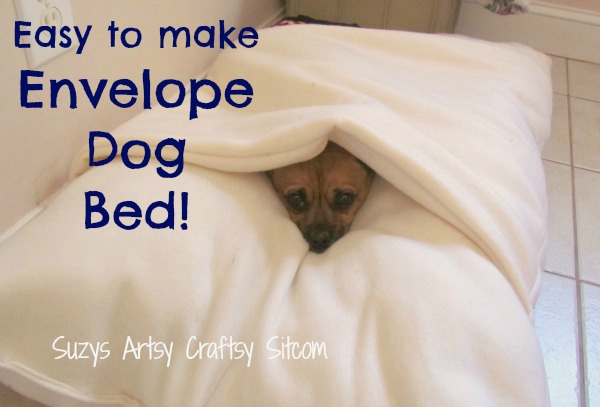 My dogs love to cuddle under the blankets.  This inspired my daughter to create a dog bed in the form of an "envelope" to keep the doggies warm and cozy on a cold winter day.  And the best part is that it only takes 3 yards of fleece to make a nice sized bed!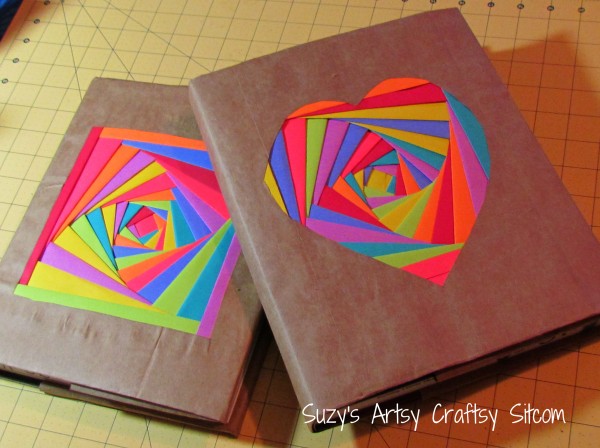 Remember the book covers that you used to make from a grocery bag? I decided to use a technique called Iris Folding with bright colored papers to make those boring bookcovers exciting.  This tutorial includes several free downloadable Iris Folding patterns!
As a quilter, I've always had a preference for batik fabrics. I love the vibrant colors! Well, if you have been following my blog for any time, you probably already know that I love me some color. And the idea of using a resist to block color in areas is something that I love doing with my Ukrainian eggs. So, a mix of color and resist dyeing with crayons just seemed right up my alley.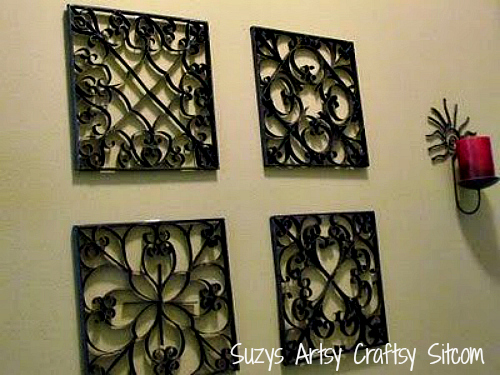 I decided to try my hand at mixing some quilling techniques and toilet paper tubes to come up with some faux metal wall art to spice up my Southwestern theme kitchen.  This was back in 2011.  My Faux Metal Wall Art tutorial has been in my top 10 ever since!  This tutorial even includes four free patterns!
Creating Mosaics using glass pieces can be difficult.  But I found a great stick on adhesive, and using broken dollar store plates, I was able to revive a boring lazy susan! This is a surprisingly simple project!
Here is another fun project that just cost pennies to make!  Stock up on plastic spoons from the dollar store.  A bit of hot glue and paint, and you have fun Chrysanthemum Mirrors!  You can find the full tutorial here!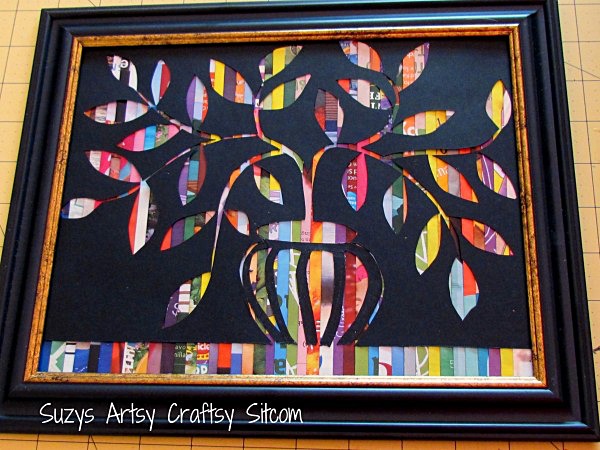 Another way to recycle magazines and create beautiful artwork at the same time, this cut paper art is not only colorful, but very easy to make!  A great project for a rainy afternoon!
See something you want to try?  The Sitcom is just full of fun ideas.  In fact, I have over 200 more craft tutorials if you are in the crafty mood!  Oh, and free patterns, and even quilt patterns!
The year 2016 will be bringing even more changes in our family, but rest assured, the Sitcom will still be filling with more crafting ideas.  So stay tuned for much more!
Are you new to the Sitcom?  Be sure to check out my Frequently Asked Questions Page!
For over 200 crafty tutorials for all ages, visit my Tutorial Page!