This post is sponsored by Mars Veterinary Wisdom Panel 3.0.  All opinions are my own.
Today we are celebrating the dog and all the love that they bring to our daily lives.  You know, it is always a good time to consider doing something for the homeless and abused dogs.  Maybe adopt one of your own from a rescue home.  I've always love the quote, "Saving one dog will not change the world, but surely for that one dog, the world will change forever."
So very true.
Already adopted a dog?  Me too.  So this holiday season, I wanted to tell you not only about some great DIY dog gifts, but also a new canine DNA test—Wisdom Panel® 3.0 from Mars Veterinary.
As a mixed breed dog owner, having access to reliable breed ancestry information can be critical for the nutrition, training and overall healthcare of my dogs. Understanding the breeds that make up our dogs enables much more targeted care and in some cases provides lifesaving information.
Why DNA testing for dogs?
To discover MDR1 mutation testing for drug sensitivity.
The ability to develop a training program that works with their natural instincts (breeds) and a better understanding their behavior characteristics.
To develop a nutrition plan for breed-specific needs.
Help to determine what the adult size of your dog might be.
Understanding the breeds within your dog, in order to lookout for any breed-specific health concerns or common issues.
And the test is very reasonably priced.  Check the bottom of this post for more details!
Now how about a gift made especially for your pal?  Here are 8 easy DIY gifts for your dog!  Oh, and a few more great doggie quotes to go along with them.
My dogs both enjoy not only the comfort of their own dog bed, but both have a thing about wanting to be under blankets.  Over a year ago, my daughter made an "envelope" style dog bed that has both a blanket and a pillow attached.  They absolutely love that bed.
"You can say any foolish thing to a dog, and the dog will give you a look that says, 'Wow, you're right! I never would've thought of that!'"
—Dave Barry
I decided that I'd try my hand at making my dogs some homemade treats. No chemicals, no preservatives, just something they might enjoy as a treat that isn't table food. I found a great recipe for Peanut Butter and Pumpkin Dog Treats that I decided to try- and turned them into little conversation hearts!  Full recipe and instructions!
"Outside of a dog, a book is man's best friend. Inside of a dog it's too dark to read."
—Groucho Marx
I purchased a couple of stockings from the dollar store and personalized them with my own pattern, and I'd love to share it with you!
"If you think dogs can't count, try putting three dog biscuits in your pocket and then give him only two of them."
—Phil Pastoret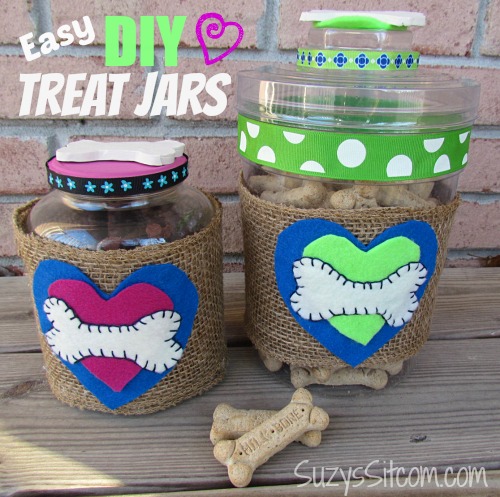 A great idea using recycled containers to create cute treat jars.  Includes my free pattern!
"I wonder if other dogs think poodles are members of a weird religious cult."
—Rita Rudner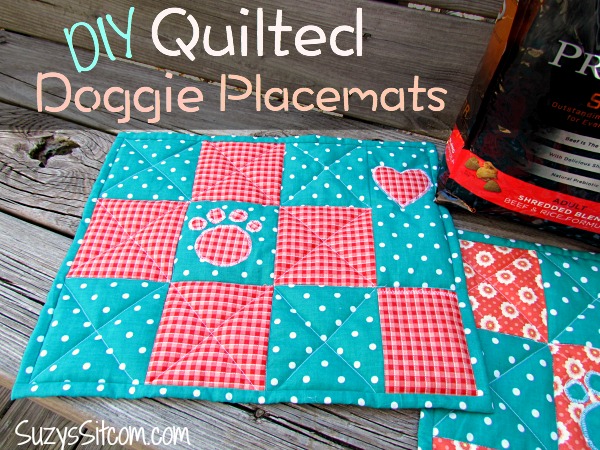 I realized that the dogs needed placemats under their dishes.  Why?  Well, for one it will keep the floor from getting messy, but the most important thing is everyone knows that dog food has much better taste when it is eaten over a rug.
DIY Dog Toys from Making It Home Blog
"You think dogs will not be in heaven? I tell you, they will be there long before any of us."
—Robert Louis Stevenson
And don't forget about the best gift of all.  A little knowledge about your dog's background goes a long way!
Wisdom Panel 3.0
Covers 250+ breeds, types and varieties including all those recognized by the American Kennel Club (AKC) and can be run for mixed-breed, designer, or purebred dogs.
Provides ancestry information back to the great-grandparent level, MDR1 Genetic Mutation screening results, and a predicted weight profile.
Can be done at home and consists of two swabs that the owner rubs between the gum and the cheek for 15 seconds to collect skin cells for DNA extraction.
Results take approximately 2-3 weeks from the time the test reaches the lab.
Visit www.WisdomPanel.com for more information and to purchase a kit.
Wisdom Panel will be at the Holiday Pet Festival in Scottsdale, AZ  on December 5, 2015.  You can get your pet swabbed at the event for a discounted price of $39.99. For those wanting to take home a kit, they can be purchased for the discounted price of $49.99 (MSRP $84.99).
Follow Wisdom Panel for more updates and product discounts!
Facebook    *    Twitter   *   Instagram   *   Pinterest
I'd love to hear about a favorite pet you will be giving treats to this holiday season!
Are you new to the Sitcom?  Be sure to check out my Frequently Asked Questions Page!
For over 200 crafty tutorials for all ages, visit my Tutorial Page!