I love getting emails from readers who have tried out one of my tutorials and want to show off their projects.  My Faux Stained Glass tutorial is my most popular post.  The technique of mixing acrylic paint and glue to create the effect of stained glass has inspired many.  I received a great email from Emily Colonello along with some fantastic examples of what she has created using this simple technique!
Emily uses coloring pages as her patterns to create some amazingly colorful faux stained glass images.
Creating faux stained glass using glue and acrylic paint was originally conceived as a kids craft, but it also is a fun project for adults!  Since I put out the original tutorial- Faux Stained Glass with Paint and Glue, many have been inspired, including me!
This simple process, using items you will most likely have around your house, results in some amazing and colorful pieces of art.
Emily's work is just amazing!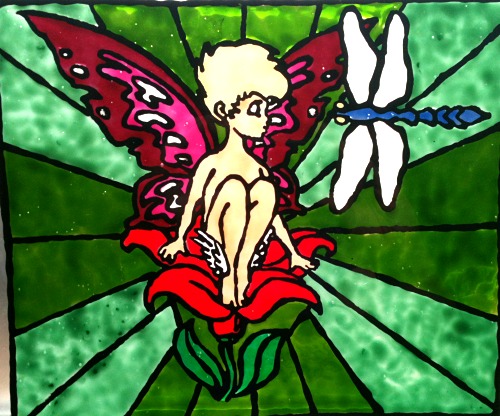 Emily says that she uses food coloring rather than acrylic paint.  Other than that, her process is the same.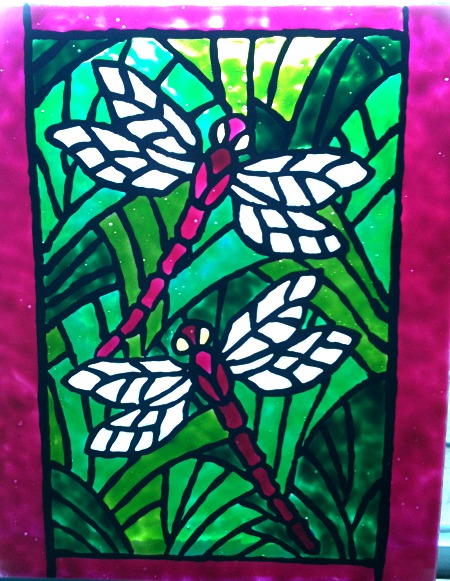 This dragonfly painting is my favorite.  I love her use of color and the vibrant pink in the dragonflies and frame totally make it pop.  And you know how I love color!
Want to know how to make Faux Stained Glass?  And maybe even get a free pattern or two?
For more details on the process and the full tutorial, be sure to check out my Faux Stained Glass tutorial!
These fun works of art can sit in a windowsill where the sunlight can shine through, or you can hang it on a wall.  Either way, it turns out pretty decent and costs just pennies.  And looks just as good as those expensive stained glass paints that you can buy at the craft store.
 And if you love the peacock pattern, you can get it free just by signing up to get Suzy's Sitcom in your email!
 Love to Craft?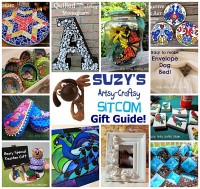 You might also enjoy my 7 DIY Suncatchers post and my Sitcom Handmade Gift Guide with tons of free and original craft ideas!
For over 200 crafty tutorials for all ages, visit my Tutorial Page!