I love to use leftover containers for clever craft ideas.  Never one to just throw something away, I decided to use the little plastic microwave cups to make miniature ice candles!
Creating with recycled items is not a new thing for me.  I made unusual wall art from toilet paper tubes, a pretty suncatcher from plastic lids, and even a baby food jar Christmas tree!  So, it was just natural to look at these cool little cups and come up with a project.
This week I made some miniature ice candles that would be perfect for small gifts!  Want to know how?
For this project I used:
Small plastic cups (any small disposable container will work)
Spray vegetable oil
Paraffin Wax
Crayons
Candle Tapers
Crushed Ice
Two pots (for double boiler)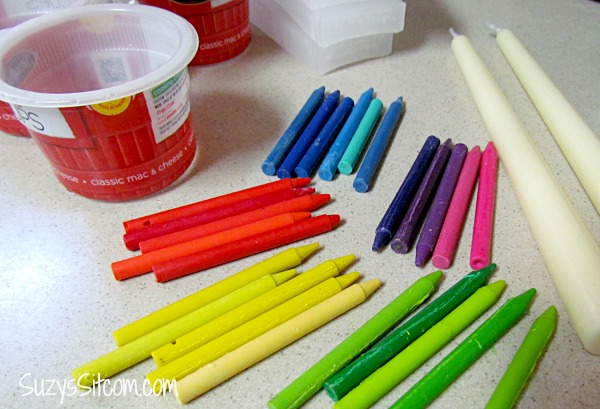 Select some crayons for each candle, and peel off the paper.  For each candle, I used four or five crayons.
Cut your tapers to the height of the cup.  I used several tapers for this project (you can get them at the dollar store), cutting them to the proper height and carving back the wax at the top to reveal the wick.