Create a cute Holiday Angel Votive from paper towel tubes, a bit of yarn and some dollar store items!  These sweet angels are a perfect, inexpensive decoration to light up your holiday mantel.  And they are fun to make too!
Every year, I participate in an ornament club.  Our club has been meeting now for the past 21 years, and we have quite a few artistic folks in it that appreciate time spent on ornaments.  We get together on the first Saturday in December to swap handmade ornaments.
Of course, that entails coming up with something original every year.  But you would be amazed at some of the awesome things that we have exchanged over the years.  Many of my Christmas projects on the Sitcom were originally projects that I made for the club.
Such as: Paper Mache Characters ,  Vintage Snowglobe Ornaments,  Sleepy Time Doorstop , Floral Handpainted Ornaments,  and Bread Dough Bears.
This year, I wanted to go back to my recycling bin and pull out all those paper towel tubes.  So many possibilities!  After running across battery operated tea lights at the dollar store, it suddenly became clear what I had to make this year!  How about yarn-wrapped Holiday Angel Votives!
Want to know how?
For each angel I used:
One paper towel tube
One dollar store battery operated tea light
One dollar store candle mirror
Scrap corrugated cardboard
Yarn
1.5″ styrofoam ball
FloraCraft® Smooth Finish
Various colored felt
Yarn Wrapped Angel Votives Wing Pattern (1)
Novelty Eyelash Yarn
Various ribbons, Christmas greenery, stick on jewels and glitter
Acrylic paint
sandpaper, white glue, low temp hot glue
Begin by cutting the paper towel tube to a 6″ length.  Cut a half circle into the center of one end and clip the two edges to create a place for her head and shoulders.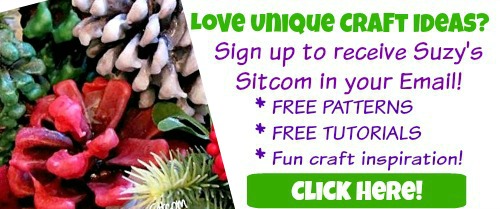 Use hot glue to the head and should section together.
Use low temp hot glue to add the styrofoam head to the top.
Use white glue to coat the side of the paper towel tube and begin wrapping yarn from the bottom up.