Thank you to Artterro Eco Art Kits for sponsoring this awesome giveaway!  All opinions are my own.
Are you on the lookout for some great gift ideas for the holidays?  Recently, I discovered Artterro.  Artterro's fun, eco-friendly craft and art kits are meant for children, but frankly can be enjoyed by young and old alike!  I love kits.  I love the fact that everything is there in one place and all you have to do is sit down and create.  The craft kits from Artterro are not only all inclusive, but contain high quality materials that are sure to inspire. The end result is something that you and your children can cherish for years to come!
The nice folks at Artterro sent me their Paint with Wool Kit to review and are allowing me to give away a nice prize package of their kits. Frankly, I'm honored to represent them!  Their kits are just beautiful!
Painting with Wool is basically beginning Needle Felting, which believe it or not, is a craft that I have never tried before.  So, my mom and I sat down with the kit to try our hands at it.  Heck, I'm always up for a new type of craft!
The kit contained Four Natural 100% wool felt canvases, 13 colors of roving wool, felting needles, ideas and instructions. I loved the fact that the instructions were beautifully printed up with lots of great color photos and lots of cool examples of what you could create.  My mom began tackling her project immediately!
One thing to note: the felting needles are quite sharp.  This kit is for ages 8 and older.  I would say that this kit in particular needs adult supervision.  (Just to be safe).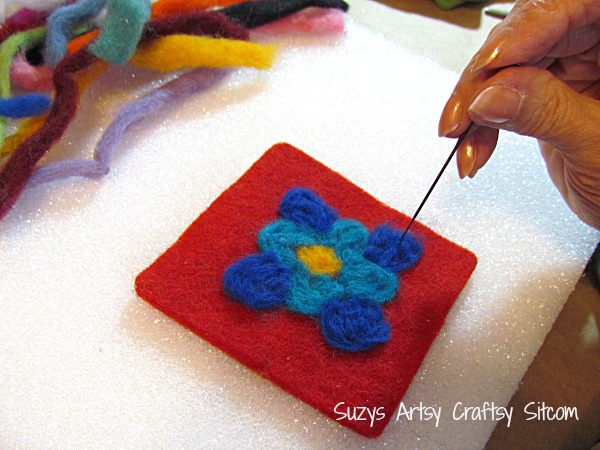 The process of Needle Felting involved laying pieces of the roving wool over the wool felt canvas and pushing the wool into the canvas with the barbed felting needle.  It wasn't long before my mom had come up with a pretty blue flower, and was onto her next canvas.  She was having a blast with this kit!
The final product?  A cute set of coasters!  Aren't they sweet?  All with one kit!  We both loved the quality of the product, the detail of the instructions and the fact that we came away with something that we love!
They offer a nice variety of kits for all ages .  I love the variety and love the fact that these are craft kits that you won't see just anywhere.  Every kit comes with a bonus project since the box can be turned into a frame for finished artwork. And, the re-sealable plastic bag is perfect for storing extra materials after doing a project.
Exclusively, for Sitcom Readers, Artterro is offering a giveaway!
You have the opportunity to win a prize package that includes:
One Creativity Kit – Set the creative spirit free with this beautiful assortment of art materials. Cut, glue and sew greeting cards, bookmarks, ornaments, gift tags, small sculptures and collages. With enough materials for 7 projects, this eco art kit provides hours of fun with friends & family, and includes a bonus project–the box turns into a frame for your finished artwork! Ages 7 and up.
One Wool Felt Jewelry Kit- Design a fashionable necklace, bracelet, earrings, pin, and barrette all with this one great kit! Wool felt is fun to work with and easy to use, only simple sewing required. This intricate eco art kit provides hours of fun with friends & family, and includes a bonus project–the box turns into a frame for your finished artwork! Ages 7 and up.
One Art Journal Kit- Spiral-bound (6.5 x 8) journal with solid book board cover to personalize, 14 inspiring project pages, 5 pages of beautiful handmade decorative papers, 6 solid colored papers, artist-quality drawing paper, and pocket folder to store pictures, scraps and found images.
Total prize value is $53.00!
How to win?  Simply go visit Artterro and leave a comment below as to what kit you love the most!  For an extra entry, check out their Facebook page!  It's as simple as that!  The giveaway ends at midnight on Monday, November 4, 2013.