I've said it before.  I don't do scary.  But I do make an exception for a cute monster or two!  So with that in mind, I found 7 cute monster projects that will have you smiling and creating in no time!
I'm kind of in the cute monster mood this week.  I showed you my latest creation, a Monster Dishwasher Magnet.  It was a fun project, and now the guys know without asking if the dishes in the dishwasher are clean.  So, since I still have monsters on the brain, her are a few more projects for you!
Frankie Pinata from Cathie Filian.  A green craft in more than one way, this pinata is created using a recycled milk jug.  Very cute idea for a Halloween party!
Monster Shelf and Potholders from SuzysSitcom.  These fun little monsters are made with blown eggs.  Don't want to work with eggs?  Most craft stores carry wooden eggs!
These little guys are the cute creation of Libby from The Bonjour Blog!  She even named them.  Meet Orange You Spiky, The Purple People Eater, and the Green Eyed Monster!  She even created some downloadable recipe cards for you to make them.  Cute!
And who wouldn't love a whole set of these cute monster bookmarks created by Tally at Tally's Treasury?  She includes a simple tutorial on her website along with lots of other great crafty ideas!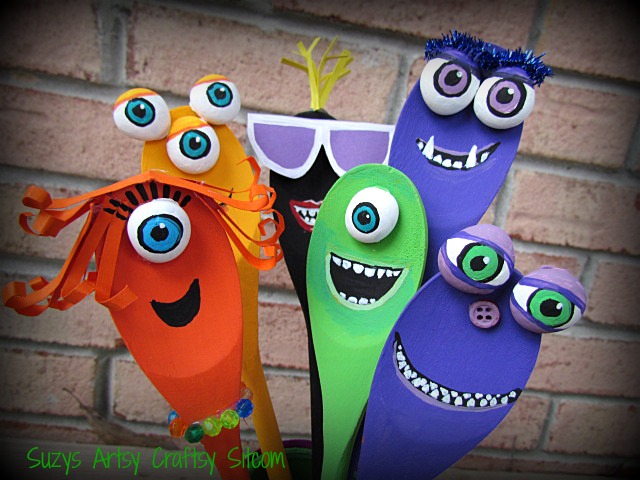 Jar 'O Monsters from Suzys Sitcom!  These sweet monsters are made with wooden spoons and sit inside a recycled jar.  Very fun to paint!
These cute little recycled bread tag monsters created by Amanda at Crafts by Amanda just made me smile!  What a fun little craft to make.  They would be great for closing treat bags!
And finally, we have these silly monster glow in the dark sneakers created by Jennifer at Momma D and Da Boyz.  This was a project she created for a challenge using Tulip Multi Glow Puffy Paints.
Some very cute monster ideas, don't you think?  After all, monsters don't have to be scary, do they?

Are you new to the Sitcom?  Be sure to check out my Frequently Asked Questions Page!
For over 200 crafty tutorials for all ages, visit my Tutorial Page!