This post was sponsored by Tulip Body Art and Blueprint Social. The project and opinions are my own.
You know, there are stores that open up in October that only sell Halloween costumes?  I didn't realize what a huge business it was.  At the risk of sounding like my father-in-law, back in my day, things were different!  We loved creating our own Halloween costumes.  With that said, I was thrilled when I was sent a selection of  Tulip® Body Art to try out.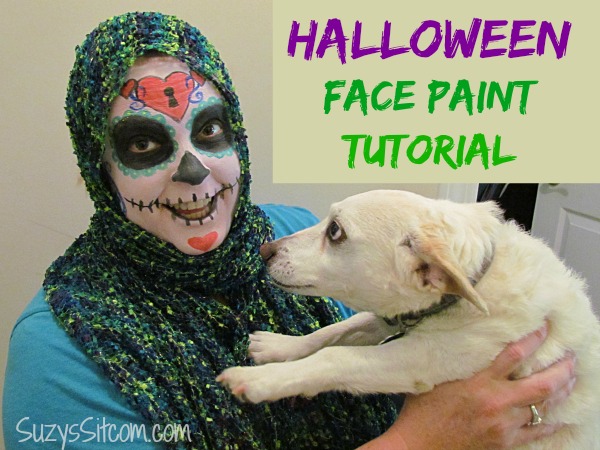 Don't you just love this sweet face?  No, not the little white dog, although she is definitely sweet.  I'm talking about the scary looking sugar skull.  Always ready for adventure, my sister volunteered her face for this project.  While her dog, Biscuit, seems to be a bit off-put by my artistry, my sister and I had a great time with this project.  It is fun to create your own characters and with Tulip Body Art, you are limited only to your own imagination!
Just look at all these fun body art supplies!  Whether you're going for cute or creepy, Tulip® Body Art® has what you need with an extensive variety of professional-quality paint, glitter, hair and even black light products for Halloween and so much more!  And they even included stencils!  How cool!  We will be using them for later projects, that is for sure.
Meet my sister, Lynda.  Note the Mickey Mouse shirt.  She would change her middle name to Disney if she could.  In fact, I'm not so sure she hasn't already done that.  Anyway, I swayed her away from any Disney recreations.  I was set on doing a sugar skull.  Of course it will be a happy sugar skull, because I don't like scary.
Lynda, meet my awesome readers!  Awesome Readers- this is Lynda!
So now that the introductions are complete, let's get started!
By the way, I forgot to mention that Lynda is kind of a pro at face painting.  I'll show you some of her work at the end of this post.  But in the meantime, we are starting with the white base.  The kit comes with some great brushes, but we chose a makeup sponge for the initial application.  Simply add a bit of water to the paint, just like you were doing watercolors, and then paint or sponge on.
Tulip® Body Art® is nontoxic, with cosmetic-grade ingredients.  I was amazed at how evenly it went on.    And when your are finished and want to remove it, it comes off easily with soap and water!
Now the fun part!  Once the base coat dried (after about 10 minutes), we went onto the details.  Add a bit of water to each color as you use them and paint it on.  Can't get much simpler than that!
The only hard part was deciding which color to use next!  It was at this point that I had to make a decision.  My sugar skull was starting to look pretty scary.  What to do?
Yep.  That helped!  All sugar skulls should be this happy!
My sister loves to work with props, so once the painting was complete, she added a scarf.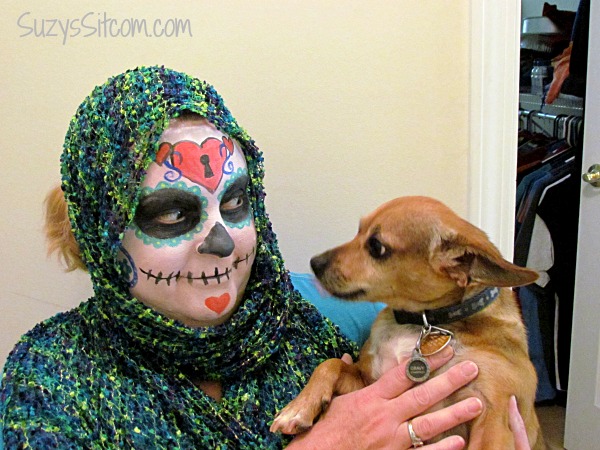 And then we needed to scare the dogs.  Because what good is a sugar skull paint job with out a few freaked out dogs?  Here is her dog, Gravy's response.  He was not really that impressed.  He just wanted a kiss.
Her dog, Biscuit, on the other hand, wasn't so sure about it.  LOL!
She should be used to it, though.  Check out some of Lynda's other creations!
You just never know what her profile photo on Facebook is going to be…
If you are in need of a low cost, but very creative costume then paint one yourself!  Check out all the fun body art supplies made by Tulip® Body Art®! And be sure to visit them on their social accounts for even more fun ideas!
Facebook  *  Twitter  *  Pinterest   *   Website
This post was sponsored by Tulip Body Art and Blueprint Social. The project and opinions are my own.
Want to see more fun face painting?  Check out what these other bloggers have come up with!