Need to make a unique gift for someone?  Want to personalize a room or a wall?  Well, monograms are a great way to show your individuality!  I have several unique monogram tutorials to choose from here on the Sitcom.
And then I decided to throw in a few more from around the web.  So pick out one that goes with your style and create something awesome!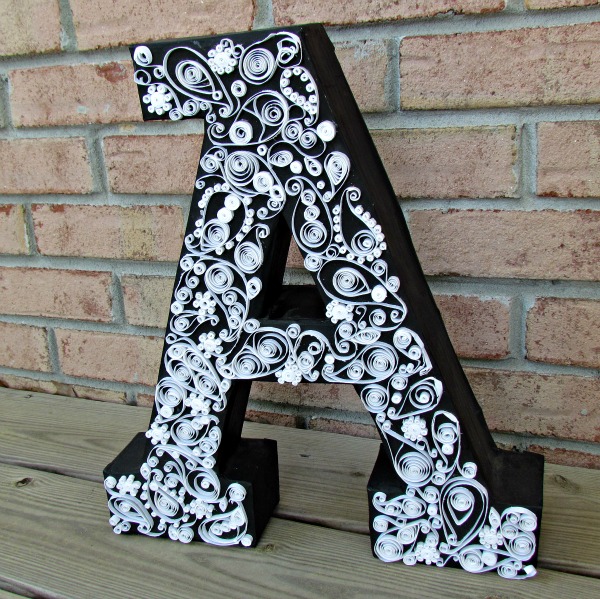 This Quilled Paisley Monogram is created from scrap cardboard and white cardstock.  The entire project cost just pennies and the unique paisley pattern definitely is a conversation piece!  You can find the complete tutorial here on the Sitcom.
You can make brightly colored and patterned letters with fabric!  I love how these are lightly stuffed!  Of course, I'm partial to the "S".  Don't be fooled- there is now sewing involved!  For a full tutorial, check out Aflutter!
This monogram was created from a cardboard box and pieces of colored glass from the Dollar Store.  A fun use of mosaic techniques and definitely a beautiful addition to your home.  Full tutorial can be found here: Mosaic Monogram.
Have a ton of buttons laying around that could be put to good use?  How about creating a colorful button monogram?  The full tutorial can be found at PaperMoss.  Simple to create, and a colorful addition to any room.
And finally, if you are into more detailed quilling, as I apparently am, be sure to check out my Quilled Monogram.  This is another project that took just pennies to create.  Made entirely from colored cardstock, this particular monogram became a wedding present.  You can find the tutorial here: Quilled Monogram.
So pick your favorite, and start creating!
Are you new to the Sitcom?  Be sure to check out my Frequently Asked Questions Page!
For over 200 crafty tutorials for all ages, visit my Tutorial Page!