Spring has sprung in Atlanta and is slowly working it's way north.  With such a tough winter hopefully behind us, we are all longing for the colors of spring!  So with that in mind, I put together 10 of my favorite spring crafts to get you in the mood!

You know, I just heard that Niagara Falls has totally frozen over for the second time this year, which means it's even colder in New York and southern Canada.  So I really should quit complaining, right?  We all need a bit of Spring don't we?  Here are 10 great projects to warm us all up and just maybe bring in a little Spring!
As a quilter, I've always had a preference for batik fabrics. I love the vibrant colors! This is an easy way to create the look of batik with melted crayons!
A great way to not only refresh a couple of old stools, but create works of art depicting vintage seed packet art!  This post covers basic instructions on how to make your own vintage works of art!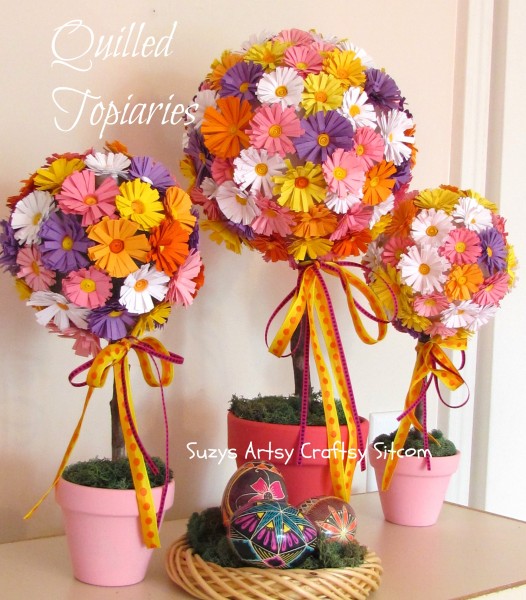 Quilled floral topiaries are a beautiful sign of spring!  If you are a regular reader of the Sitcom, then I'm sure you are familiar with my obsession with quilling.  I enjoy the challenge of creating beautiful things with little more than colored cardstock, or upcycled materials.  My Quilled Topiaries are colorful, fun and inexpensive to make!
My Mom and I decided to get together once a month to create a project.  I got to choose the project this time and chose the Chrysanthemum Mirror .  Guess what it is made of?  Plastic spoons!  Seriously! For the full tutorial, go to Chrysanthemum Mirrors.
Love brightly colored yarn?  Here is a great way to dye your own yarn in a crockpot using Easter Egg dyes! Hand dying yarn with Easter Egg Dye.
If you can sew a straight line, you can make this tote!  It's made from a fabric grocery bag!  Easy tutorial can be found here: Ruffled Grocery Bag.
A row of pretty painted houses make a cute, colorful shelf!  This tutorial will walk you through some painting techniques for creating your own little village of houses.  Painted Houses Shelf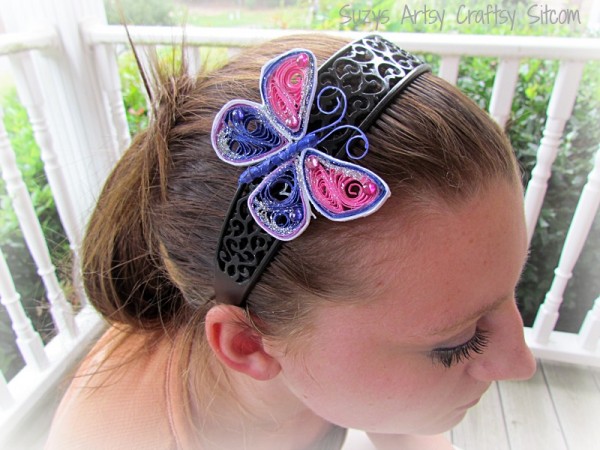 You can make so many things with paper!  Over the past few years, I have made Faux Metal Wall Art, a Quilled Starry Night, a Quilled Butterfly in a Jar, a Quilled Garden Frame, and much more.  Playing with paper is a lot of fun.  Some of my Sitcom readers asked me for a beginners tutorial on Quilling.  So here is a tutorial for a Paper Quilled Butterfly Headband created just for beginners!
I pulled out my Gossiping Birds pattern because I knew it would work well with bright neon colors.  You have seen it done before with paint on a mirror, this time I made a cute neon tote! Perfect to chase away the winter blues!
 I had a lot of fun sorting through the beads and coming up with this idea.  I decided to create a refrigerator magnet in the shape of a butterfly.  And since I couldn't decide which beads I liked best, I decided to use as many of them as possible!  You can find the full tutorial here: Bead and Wire Butterfly
See something you want to make?  Brighten up your cold winter day with a touch of Spring!
Are you new to the Sitcom?  Be sure to check out my Frequently Asked Questions Page!
 For over 200 crafty tutorials for all ages, visit my Tutorial Page!