This post is sponsored by Honey Baked Ham.  All opinions are my own. #HoneyBakedEaster
I'm always looking for an excuse to create.  Let's face it.  Most crafters live for holidays.  Each holiday provides a new theme to work around, and Easter is no exception.  With the family getting together, it is the perfect time to make some colorful spring decorations and lay out a spread of delicious food from Honey Baked Ham! With that in mind, I perused the files at the Sitcom and found five fun spring themed craft projects for you!
Of course, crafting isn't the only thing we do during the holidays.  We have never been known to pass up an occasion to try out delicious food.  So this year with the move in progress, I went a simpler route when it came to putting together a family meal. Here are some great craft tutorials, and be sure to check out the bottom of the post for a HoneyBaked coupon!
Sweet.   Here is an easy centerpiece solution.  I'm betting that there will be quite a few folks willing to dig into that vase at the first opportunity.  After all, the purple ones are dark chocolate!
Easter is early this year – on Sunday, April 5.  Which just so happens to be right around the corner.  Time certainly flies when you are having fun.   And HoneyBaked makes it easy to start planning now. HoneyBaked offers a large variety of easy and delicious meal solutions.
One of my family's favorites is their Smoked Turkey Breast.  It comes fully-cooked, sliced  and glazed.  Each turkey breast is trimmed by hand, carefully seasoned, then fire-glazed to perfection with our one-of-a-kind sweet, crunchy glaze.  It is available in smoked or roasted, and is gluten free!  This yummy turkey breast serves 8-10 people quite easily.  And it is as simple as heat and serve!  That's my kind of cooking!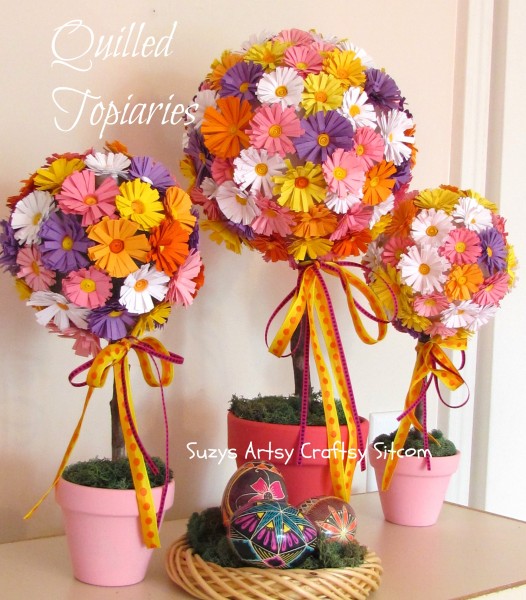 A beautiful sign of spring!  If you are a regular reader of the Sitcom, then I'm sure you are familiar with my obsession with quilling.  I enjoy the challenge of creating beautiful things with little more than colored cardstock, or upcycled materials.  These pretty topiaries take a little time to make, but are beautiful for years to come!
This wreath was created using a sweet collection of Easter ribbons and a whole ton of pastel plastic Easter eggs!
How about some easy side dishes?  The HoneyBaked store in my area offers a delicious Au Gratin Potato side dish.  It is creamy, cheesy and just wonderful.  The family just loves it!  Just pop it in the oven for about 15-20 minutes until the top browns, and it is ready to eat!
Pretty!  I'm a big fan of metallics, and when I discovered the art of burnishing foil onto things, it came to mind that this process might just work well on Easter eggs!
Since 1957, HoneyBaked has been known for the most flavorful, moist and tender Ham you'll find anywhere.  It is finished with its signature sweet, crunchy glaze. Did you know that each HoneyBaked Ham is slow-smoked for more than twenty hours?  It is amazingly tender!  They spiral-slice is in the store and it is ready to serve!  We bought the mini ham pictured above and it easily serves 6-8 people.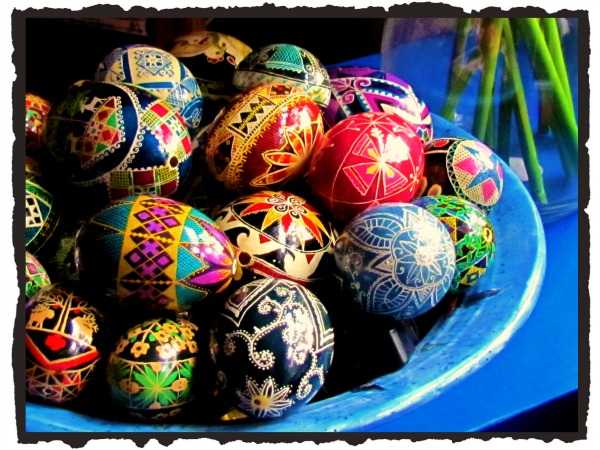 Ukrainian Eggs are a beautiful addition to your Easter decorations.  In fact, I keep them around the house all year round. Creating Ukrainian Eggs is one of my specialties and you can find a large selection of them in my Etsy shop. This post gives you a brief tutorial on the actual process of creating these eggs with bees wax and dyes.
HoneyBaked is a great solution for a busy holiday season.  And if you put a little flower on your nose, the family will think you were toiling in the kitchen all day!  Like I said.  My kind of cooking!
Easter is in just a couple weeks, so go grab some craft supplies and create something beautiful for your table.  Food-wise, HoneyBaked has you covered!
Want a HoneyBaked Coupon?
Click here for an exclusive, limited time offer- $5 off any purchase of $50 or more!
Offer valid 3.14.15 – 4.4.15. Must present coupon at time of purchase to receive offer. May not be combined with any other offer. One coupon per person at participating retail store locations. While supplies last.
What is your favorite holiday meal?