Let's face it, sometimes craft supplies can be expensive.  But I do have a few DIY ideas that can save you money.  You can get the same or similar look at a fraction of the price, and have a lot of fun in the process!
I'm a cheapskate at heart.  Especially since we sold our home and began traveling in our RV.  It helps to stretch the dollar a bit, but still be able to create beautiful projects anytime I want to.  Here are some of my most favorite money saving tips and craft ideas!
1. Faux Stained Glass
One of the most popular projects on the Sitcom uses Faux Stained Glass Paint.  This DIY craft supply is easy to create, with fabulous results.  It gives the look of stained glass, but doesn't have the higher cost of actual stained glass paint.
And it is kid friendly too!  Just check out some of my readers submitted projects!  And also these beautiful projects here!  You can even make faux tiffany!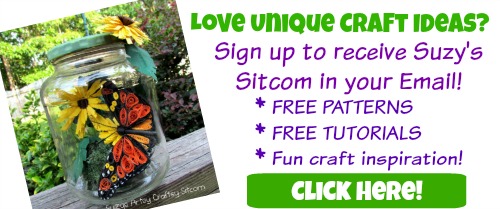 2. How to make your own stencils
A great way to save a bit of money and create duplicate images is to make your own stencils.  You can purchase blank stencil material at your local craft store and create your own!  Here are two fun tutorials which even include a free flower stencil pattern for you!
Click here for more money saving craft ideas!