I have been working on my new Disney Themed Room using Disney Paint and will be doing the final reveal next week. Included in that room is a DIY Canvas Wall Art project.  I made my own stencils for this project and I will show you how!
[pinit]
The room is Disney Fairy themed, and I had already given one wall a coat of Enchanted Violet Disney Paint as a focus wall to go along with the pale green paint on the other walls.  I then painted butterflies, flowers and a Fairy using Disney's Ready, Set, Glow! glow in the dark paint.  Now I want to add pops of color throughout the room.  I decided to create a large piece of colorful wall art using stencils.
Amazon links below:
For this project I used:
One sheet of blank stencil
(8 ea.) 8 x 10 inch canvases
Flower Stencil Pattern (click for easy download)
Craft Knife
Acrylic Paints in Lavender, Lime Green, Hot Pink, and Bright Yellow
Sponge Brush for stenciling
Painters Tape (for ease of hanging)
Adhesive Picture Hanging Strips
Begin by choosing four bright colors of acrylic paint.  For this project I chose: Lavender, Lime Green, Hot Pink and Bright Yellow.  Paint all eight canvas, two of each color.  It may take a couple of coats.
The stencil section of the craft store also carries stencil sheets.  This semi-clear plastic sheet can be put over top of  the flower pattern and the design traced onto the sheet.
Use a craft knife to carefully cut out the design.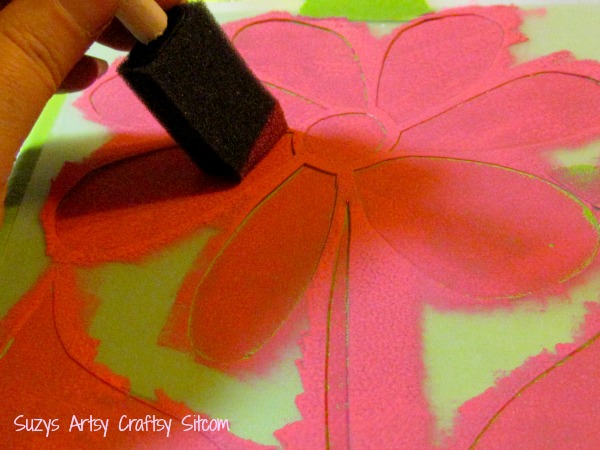 Use a couple pieces of painters tape to temporarily tape the stencil down onto a canvas.  Use a contrasting color to paint in the flower.  Dip the sponge brush into the paint, wipe it briefly on a paper towel to dry the brush a bit and then pounce it onto the canvas and stencil, coloring in the flower design.
Peel off the stencil, and you have a completed flower!
Stencil the flower on all the canvases, using contrasting colors.  Be sure to mix it up so that no two canvases are alike!  Your stencil can be stored to be used again on other projects.
An easy way to hang this group of canvases evenly is to use painters tape to mark your wall.  Decide where you want the bottom of the canvases to fall, then place a piece of painters tape on the wall horizontally, using a level to be sure that it is straight.  I wanted my canvases 1 inch apart.  I measured and placed an additional piece of painters tape 11″ above the other piece of tape.  That allows for the 10″ canvas plus an inch in between.
Mark the painters tape with 1″ in between each 8″ wide canvas.  Apply picture hanging strips to the back of each canvas and place them onto the wall using the measurements that are drawn onto the tape.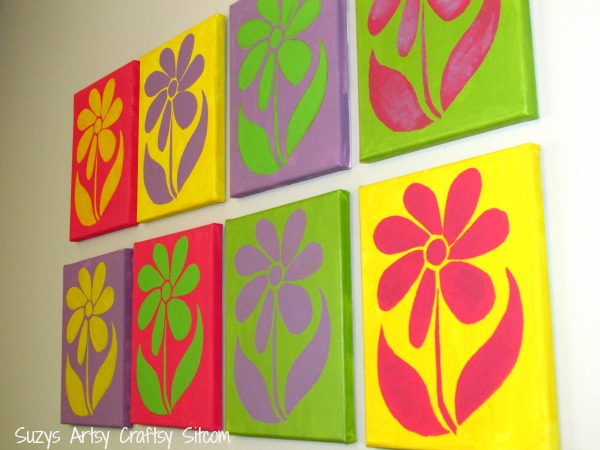 Remove the painters tape, and you have a large flowery work of art!
And I didn't stop there!  To complete the theme, I created some stenciled pillow!  You can find the full tutorial here!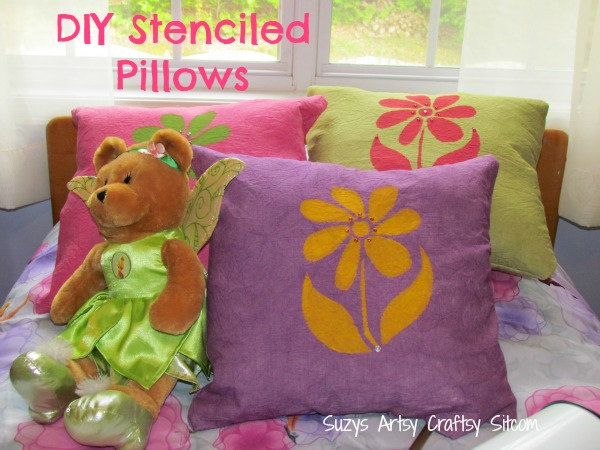 Are you new to the Sitcom?  Be sure to check out my Frequently Asked Questions Page!
For more than 200 detailed DIY and craft tutorials for all ages, visit my Tutorial Page!