Crafting with recycled materials always makes my day.  Making something amazing out of what some folks would consider trash accomplishes two huge crafty goals.  One, you are creating less trash and two, well you are saving a ton of money on craft supplies!  A win-win!
So, with Halloween creeping up on us, I wanted to feature 7 fun to make Halloween Luminaries created from recycled materials!
These colorful and fun luminaries are all easy to make, many come with free patterns and will make your home brighter for the holiday!  And best of all!  The craft supplies are mostly free!
DIY Halloween City Skyline Luminaries
These pretty City Skyline Luminaries are easy to make from recycled glass jars and are absolutely beautiful when lit by candlelight.  And I've even included the free pattern for you!  Click here for the pattern and easy instructions!
Easy Halloween Punched Metal Lights
These pretty metal punch lights are easier to create than you might think.  Remember my previous metal punch rooster made from disposable cookie sheets?  Yes, we are using disposable pans again!  This simple project takes no time at all, and the results are so fun!  A pretty decorative light that is just in time for the season!  Includes Free patterns!
Spirit Jugs from Eighteen25
BOO! These Spirit Jugs are so easy to make and about as inexpensive as they come. We came across the idea for these ghostly guys a couple years ago on family fun. We knew with as much milk as our kids go through, it would take us no time at all to have all of the supplies handy. So if you are ready to get decorating for Halloween this is a great project to start with.
Glowing Jack O lantern Jars from Crafts by Amanda
Halloween would not be complete without pumpkins, Jack O Lanterns, costumes and things that glow in the dark. Glow sticks are inexpensive and can be used to make lots of things light up the night! It's temporary though, so if you want to make these glowing Jack O Lantern jars, wait until the night of your Halloween party or trick or treating.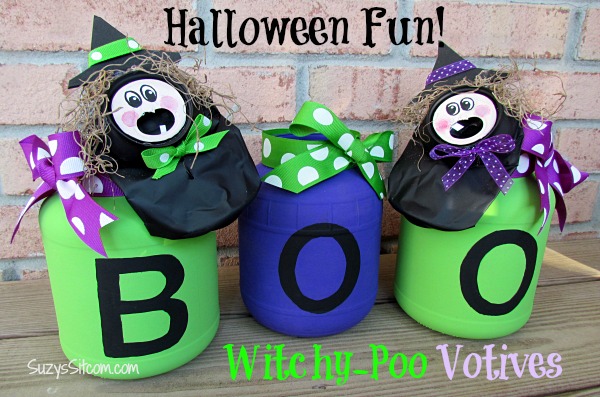 Fun Witchy-Poo Votives
These cute little Witchy-Poos are made from recycled soda cans.  Their votives are recycled pickle jars.  We are talking a lot of cute here for very little money.  This project is totally up my alley!
Mummy Mason Jar Luminaries from A Little Clairification
Ok, not really.  You basically take a mason jar and wrap it with some gauze bandage tape… hot glue on a couple of googly eyes … add in a little flameless votive candle (or a regular votive if these will be attended at all times) and boom!  Bob's your Uncle.
Or your "Mummy", as the case may be.  Click here for the full tutorial!
Halloween Tin Can Luminaries from Jolly Mom
If you're looking for an easy and affordable way to decorate your home for Halloween, make these luminaries using tin cans! Place them along your walkway or front steps to light the way on Halloween. So cute and charming!
Scented Jack 'O Lantern Tealights made from Oranges
I've never been a huge fan of scary Halloween decorations.  Orange isn't my favorite color and being scared isn't my favorite thing.  So, I tend to decorate with fall themed items rather than going the scary-witchy route.  But I really do love the smell of citrus and allspice.  So I found a way to combine the Halloween "scary-ness" with the natural scents of oranges and spice.
See something you want to try?
Create something amazing and be sure to share it with us!  I'd love to see what you come up with!
For 10 Non-Scary Halloween craft ideas, Click here!
For over 200 crafty tutorials for all ages, visit my Tutorial Page!