You can make so many things with paper!  Over the past few years, I have made Faux Metal Wall Art, a Quilled Starry Night, a Quilled Butterfly in a Jar, a Quilled Garden Frame, and much more.  Playing with paper is a lot of fun.
Some of the Sitcom readers have asked me for a beginners tutorial on Quilling.  So here is a tutorial for a Paper Quilled Butterfly Headband created just for beginners!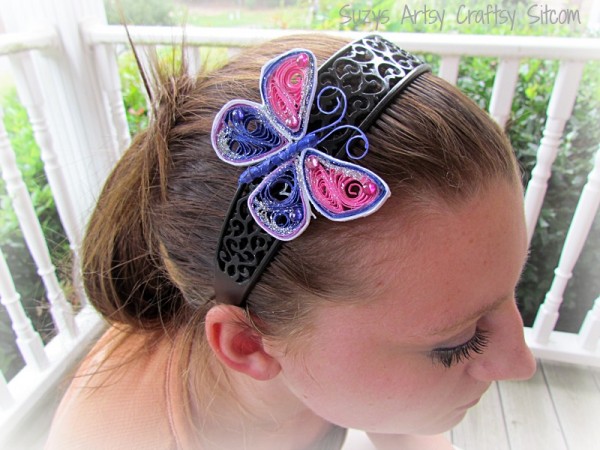 Affiliate links to Amazon below:
For this project you will need:
Colored Cardstock (one sheet each of dark purple, light purple, white, and pink)
Toothpicks
Aleene's Tacky Glue
Mod Podge (Glossy)
Quilling tool
Paper Cutter (or scissors)
Stick on gemstones in pink and purple
Silver glitter
Hot glue
Plastic Headband
I printed out an idea of my inspiration- a beautiful pink and purple butterfly.  And rounded up my tools.  For this project I use a small quilling tool.  You can find them at most craft stores.
I believe I paid just a few dollars for this tool and I've used it for years!  Also, I prefer to use Aleene's Tacky Glue because just like it says in the name, it is tacky.  I can work much more quickly as the glue works fast and dries clear.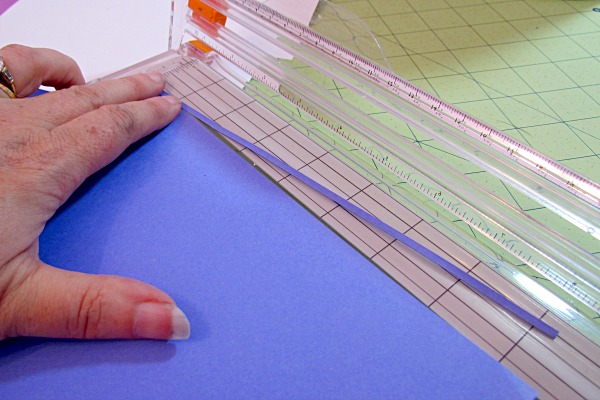 I used my small paper cutter to cut about 5 each (1/8″) strips of each color.
If you do not own a paper cutter, you can certainly do this with scissors.
Begin by sliding the end of a pink strip into the slot of the quilling tool.
  Then twist the tool and begin winding the paper strip around the end of the tool.
Twist the tool and wind the paper until the entire strip is wound around the end of the tool.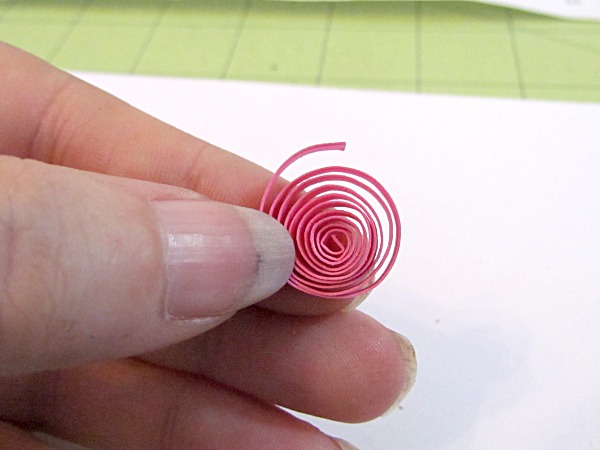 Grasp the edges of the paper, and slide the tool out.  You now have a nice spiral.
Pinch one end of the spiral to create a teardrop shape and add a dot of tacky glue to the end of the paper strip.
You now have one tear drop shaped spiral.
Create one more teardrop shaped spiral in pink, and then two spirals that are pinched at each end.  Glue each pair together as shown.
Take a strip of light purple and add dots of glue along the length of it.  Use that light purple strip to wrap around a set of pink spirals.  Repeat with the second set.
Use the same technique to create four dark purple spirals.  Glue them together as shown.
Wrap the upper pink wings in dark purple strips in the same way you did the light purple.
Add light purple strips around the dark purple wings, and then add white strips around all four wings.
Now cut a toothpick to the length that you would like the body to be.
Dot glue along a strip of dark purple and wind it around the toothpick, totally covering it.  Glue the wings to each other and to the sides of the toothpick as shown.
Cut two 1/16″ wide strips of dark purple for the antennae, and coil the end with your quilling tool.  Glue on.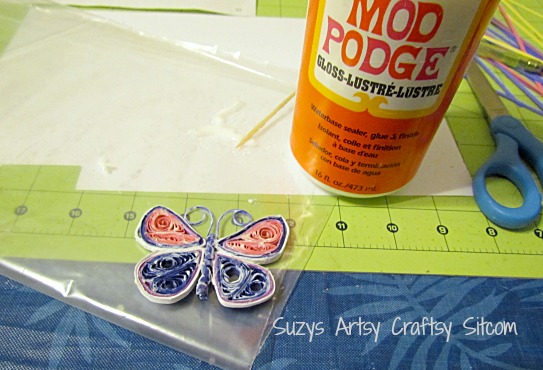 Place the butterfly on plastic (so it won't stick) and coat it with Mod Podge for protection.  Once dry, flip it over and coat the other side.  Allow it to dry thoroughly.
Add a few stick-on jewels for sparkle.  Then add dots of glue along the edges of the wings and sprinkle glitter to complete the look.  Tap off the extra glitter and allow to dry
And there you have it.  A beautiful sparkly butterfly!  You can do lots of things with this little paper creature.  You can decorate a frame with it, make a refrigerator magnet, create wall art, or do like I did and make a headband out of it.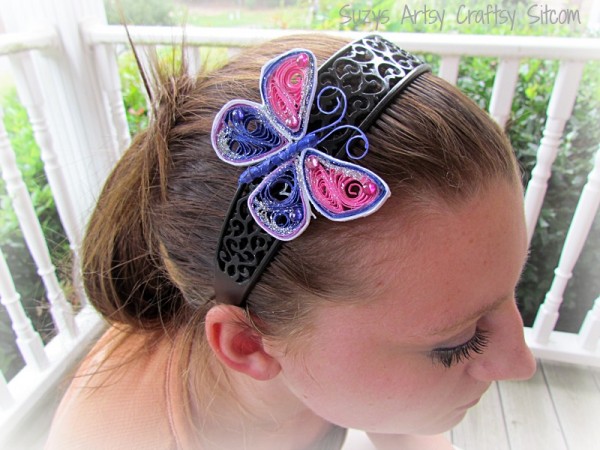 Simply hot glue it to a plastic headband!  Nobody will believe this little thing is made from paper!
Want more paper craft ideas?
Here are five more fun ideas with paper! 
Are you new to the Sitcom?  Be sure to check out my Frequently Asked Questions Page!
You can keep up with the Sitcom on Facebook for daily updates!
For over 100 crafty tutorials for all ages, be sure to visit my Tutorial Page!