This week on Kennary.com, I am featuring a decorative painting project!  Unfinished wood pieces are the perfect choice for a bit of color. In this case, I found this sweet little wooden boat and decided to make it into a small planter. Because I'm not the biggest green thumb in the world, I chose some small desert plants that might just have a chance under my care.
This simple technique involves painting with dots and adding a chosen mix of colors. You will be surprised at how easy this decorative painting technique is!
This post also includes more decorative painting ideas and even free patterns!  So be sure to page to the bottom for lots of inspiration!
I'm SO excited to be guest posting over at Kenarry: Ideas for the Home today sharing all of the instructions for this project!  You can find the full details and lots of photos of this fun Decorative Painted Planter HERE!
Want more Decorative Painting ideas?
While traveling, I'm often inspired by art that I see around the country.  I love the beautiful artwork of the Pennsylvania Dutch, and decided to create my own version of this unique folk art.  Using a set of cork trivets, I created three different love birds folk art refrigerator magnets.  And I've included the free patterns for you to make them too!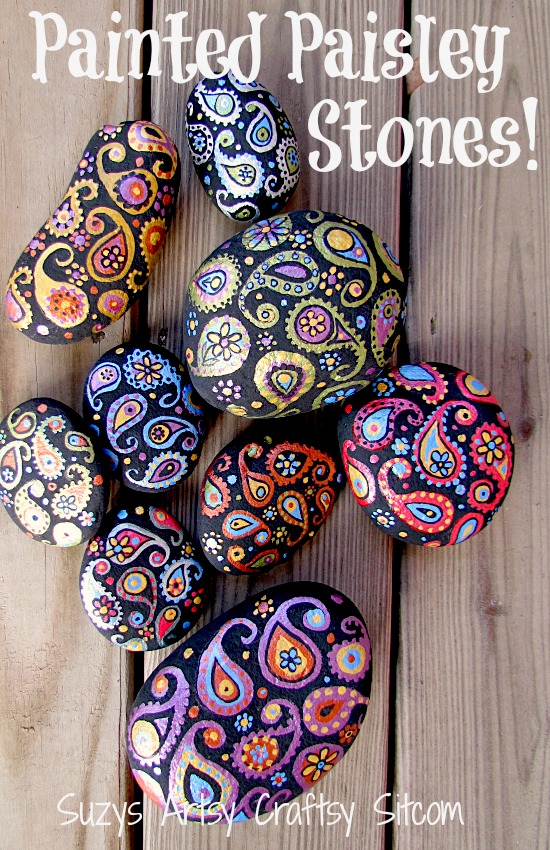 I love the look of paisley and I love to paint, so it was just natural to decide to paint a bunch of rocks with a paisley pattern!  This easy project took a bit of time, but the results are colorful and very paisley-like!  Painted Paisley stones make beautiful decorations in your garden or potted plants, or even on your desk as a paper weight!  Click HERE for more!
For over 200 crafty tutorials for all ages, visit my Tutorial Page!