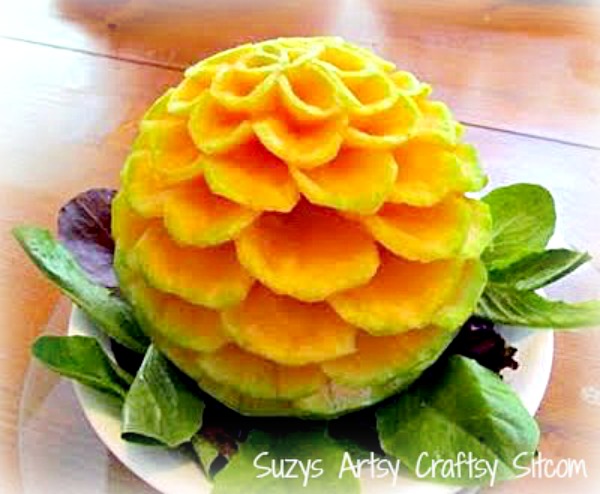 This year in an attempt to make me more social, my sister has been sending me email after email about all the games and competitions she has planned at her party, trying her best to get me to commit to something.  A treasure hunt?  Nah, I'll just watch.  An eating contest?  Really.  I'll pass.  How about a belly flopping contest?  Seriously?  I think not.
There was a pause in emails for a few days and then she hit me with, "A fruit carving contest"? Well, we have certainly thrown down the gauntlet here.  She knows I can't pass up a crafty challenge.

I live in the deep south, so this time of year we are always looking for something light and cool for a refreshing dessert.  Something simple, but delicious.  Because who wants to stand around in the heat of the kitchen when there are more enjoyable things to do on a warm sunny day?
Any recipe that takes no time to make and tastes good is totally up my alley.  I love to craft.  Hanging out in the kitchen?  Not so much.  So I am always on the look out for a yummy recipe that makes everyone happy, yet takes minimal time to make.  Banana Pudding Cupcakes fit the bill!

I made up a whole batch of Microwave Caramel Popcorn with M&M's®.
Microwave??? I hear you say?  I'm sure you raised your eyebrow too.
Really!  I promise it is amazing!  You won't believe how amazing, but you really have to try it.  And the best part?  It only takes minutes to make and involves no candy thermometers.
How about some cool dessert ideas and party decorations?  Click here!