June is the month for family reunions.  In our house that means fun family gatherings around the campfire, lots of great food, music and fun.  And even though I currently live in my RV, I love to set up a fun festive table.
Here is a great project that combines the fun with a bit of creativity to make your own DIY Party Table settings with brown paper bags and brightly colored decorative tape.
I love the colors.  They make me smile…
Want to know how to make them?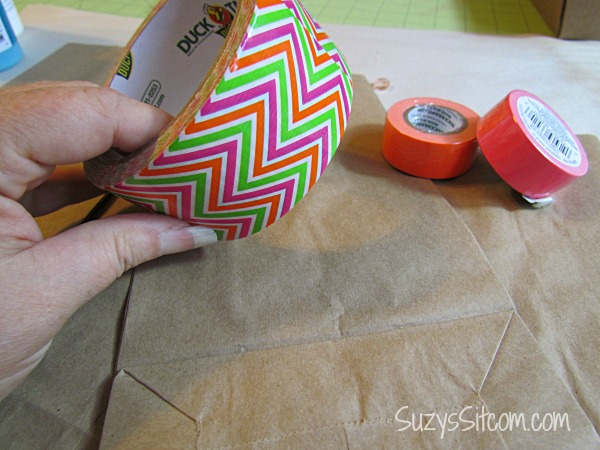 For this project I used:
One roll of decorative tape 2-1/2″ wide
One roll of coordinating tape 1″ wide
Paper Bags
Brightly colored cardstock
Clear gemstones
Hot glue
Begin by folding the bottom of the bag up about 4″.  Press the fold to create a crisp crease.
Cut a piece of the wide decorative Duck tape long enough to overlap both sides of the bag.  Fold the edge of the tape over the top of the flap, and then fold the edges over the sides of the flap.
Cut a piece of the narrower tape long enough to overlap the top and bottom of the flap on the side.   Place along the side of the flap.  Fold the top and bottom of the tape over the top and bottom of the flap, then fold the side over the back of the bag, creating a pocket.
Repeat with the other side.  You now have a pretty pocket!
Now let's make the pinwheels!  Cut a 3″ square of colored cardstock.  Draw a line from each corner, creating an X.  Draw a circle in the center.  Then cut along the pencil lines, stopping at the circle.
Add a drop of glue to the center, and then pull one of the corners to it.  Allow to dry, then move to the next one.  Once you have each corner glued in place, a pinwheel forms!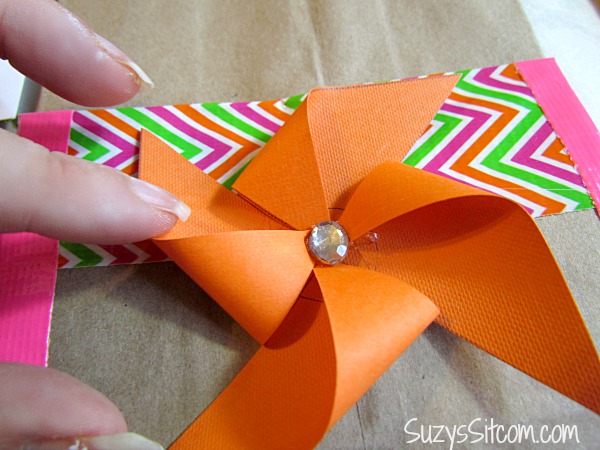 Glue the pinwheel on to the bag, and add a pretty gemstone to the center with hot glue.
Just add pretty matching napkins and plasticware and you have some cool party table settings!  What I love about them is you can make them in most any design or color pattern.  (You don't know how close I came to making them zebra print!)
Love paper crafts?  Check out some of my other easy paper craft projects!
Paper Quilled Butterfly Headband
Recycled Magazine Art
Iris Folded Book Covers
For over 200 crafty tutorials for all ages, visit my Tutorial Page!