This post and contest is sponsored by Verilux. All opinions are mine alone. #verilux
I am a crafter day and night.  And I'm pretty sure that many of my readers are that way also!  Often times I find myself up late working on projects that didn't fit into my daytime schedule.  One valuable tool that I have used for years is a Natural Spectrum Light.  It allows me to not only see my project well at night, but shows off the natural colors of my project.  And it just so happens that I have one to give away!
The nice folks at Verilux asked me to do a review on their lamp, and in exchange, I can give one away to one lucky Suzy's Sitcom reader!  You are very special to me and I love the chance to show my appreciation every now and then with an awesome giveaway.   See the bottom of this post for easy entry instructions!
The Verilux VD01 Original Natural Spectrum Desk Lamp
 is a necessity in my crafting area.  Working all day in the campgrounds leaves me with just the evenings to create.
I find it necessary to be able to view my colors as they would be seen under natural light.  A Natural Spectrum light not only brightens up my workspace, but shows off the colors as they should be without the yellow tints of artificial lighting.
When working on a project, it can be a frustrating to find that colors appear differently indoors and outdoors, as well as even under different lamps.
The Natural Spectrum Light emits a broader spectrum of wavelengths, so colors appear truer.   Not only can you see colors clearer, but it reduces eye strain and fatigue!
The Verilux VD01 Original Natural Spectrum Desk Lamp
 not only provides the best properties of natural daylight indoors, but it also helps to eliminate glare, eyestrain and fatigue.
I love how bright and colorful my projects look even at night!
And in my opinion, the more time I have to craft, the better!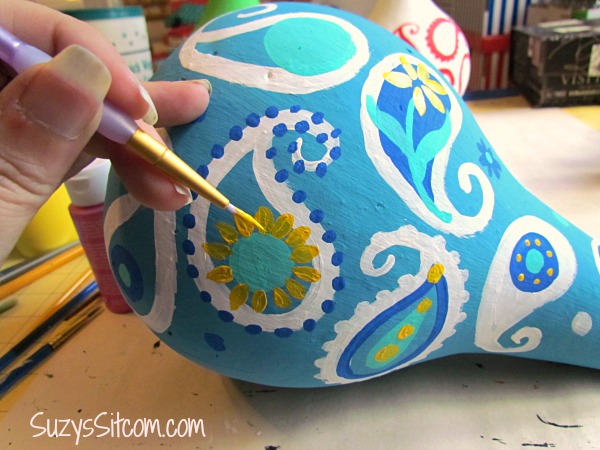 See how bright my colors are?  It can be frustrating to paint something at night and in the morning, wake up to a whole different pallet.
I took these two photos of my latest crochet project to illustrate my point.  The one on the left was taken under regular artificial light.  As you can see, the colors are washed out and yellowed.  In the photo to the right, the colors are bright and clear!
Win a Natural Spectrum Desk Lamp!
Would you like a chance to win a Verilux VD01 Original Natural Spectrum Desk Lamp
 of your very own? As you know, I believe in easy entry!  Just leave a comment below telling me what project you are currently working on!
See?  Easy entry!
Contest ends at midnight, Eastern Standard Time on Saturday, August 8, 2015.
(Due to shipping constraints, this contest is only open to United States and Canada residents).
Edited: August 9, 2015
Congratulations to the winner- Deborah!
I am working on a beaded picture using size 11 delica beads. I can only work on it during the day because artificial lighting makes for very bad eyestrain. I could really use the lamp. Thanks for the opportunity to win one.