As you probably already know, I love colorful projects.  I'm not a fan of scary, so for Halloween, I tend to go with neon green, bright orange and purple rather than just black and orange.  Seems more fun to me. When I ran across all the brightly colored holiday socks at Walmart, I had to snag a few.  And with a bit of adjustment, I created some fun Halloween Hand Warmers!
Yep, I know what you are thinking.  She really needs a manicure!  Ha!  But look at the hand warmers!  Aren't they fun?  And incredibly easy too.  I made them in about 10 minutes.  Want to know how?
Every holiday, it seems the stores are full of brightly colored holiday socks and Halloween is no exception.  It seems a shame to wears these pretty socks under pants, and it is too chilly to wear shorts, so what to do?  Well, the hands are always in need of a bit of warmth.
For this project I used a pair of knee high Halloween socks.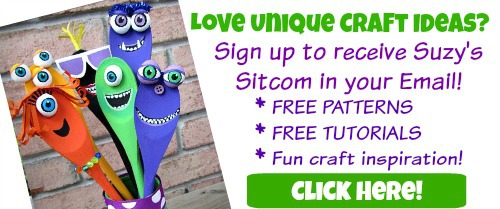 Begin by measuring with your arm (or the person's arm that you are wanting to warm).  You will want to see how long you want to make the hand warmer.  The finished top of the sock will be at about mid fingers.  Cut the foot off of the sock at the point that you choose for length.
Note where your thumb is.  Yep, I know it is on your hand.
…very funny…
What I mean is you will want to cut a 1″ opening where the thumb is, right along the fold of the sock.  In the case above, I cut it at the row of skulls.
Here I'm trying on the hand warmer (it is now no longer a sock) to make sure my measurements are what I want.
For a finishing touch, I used the zig zag stitch along all the cut areas to give it a more finished edge.
Here the edges are all complete.
In just a few minutes, I have a stylish pair of warm hands!  And when Halloween is over, I'm betting I'll run across some Christmas socks in need of a remodel too.
I wore these to work yesterday and had four different folks ask me where I bought them.  Very cool.
In need of more colorful Halloween projects?  Be sure to check out my Halloween top ten!  Note a color theme?
Which one is your favorite?
Are you new to the Sitcom?  Be sure to check out my Frequently Asked Questions Page!
For over 100 more tutorials and recipes for all ages, be sure to visit my Tutorial Page!