The year 2017 was a great year for my husband and I as we continue to travel the country in our RV.  This year, we not only experienced New England and Arizona, but had a new grandbaby!  In the midst of it all, I have been busy creating many new craft tutorials and free patterns for The Sitcom. As I do every year, I'd love to feature the 10 most popular craft ideas and patterns from Suzy's Sitcom.
Without you, Suzy's Sitcom would just be another place on the web.  You are what makes it so special!  We both want to thank you for be so awesome!
Lots of fun ideas, lots of crafting, lots new free patterns and so much more happened here this past year!
In January, I introduced my new Words to Live By Quilt Block of the Month series.  The final pattern is still available to Sitcom Subscribers free of charge until January 31, 2018.  So be sure and pick up that pattern while you can!  You can find it on the Members Only Page. 
If you would like a hard copy of this pattern mailed to your home, be sure to check out my Quilt Pattern Shop! 
Many new things are in progress for the new year including a new Free Block of the Month Pattern Series beginning on January 15, a new quilt pattern series beginning on March 1, and tons of new craft ideas.  Living on the road has certainly not slowed me down.  The year 2018 looks to be just as exciting as the last.
But first let's take a look back at 2017 and check out the most popular tutorials for the year.
Top 10 Craft Tutorials in 2017
I love to peruse my vintage craft books and bring back ideas that seem new to some.  And I stumbled upon an idea to create faux stained glass using only acrylic paint and glue.  What is great about this project is that you can make it as simple or as complicated as you like.
This project has been in my top ten ever since it was published in 2011.  Due to it's popularity, I have created full size pattern and instructions available in my Etsy shop!
Are you a subscriber of Suzy's Sitcom?  Go to the MEMBERS ONLY page for a free 8″ x 11″ pattern for this project!
Creating Mosaics using glass pieces can be difficult.  But I found a great stick on adhesive, and using broken dollar store plates, I was able to revive a boring lazy susan! This is a surprisingly simple project!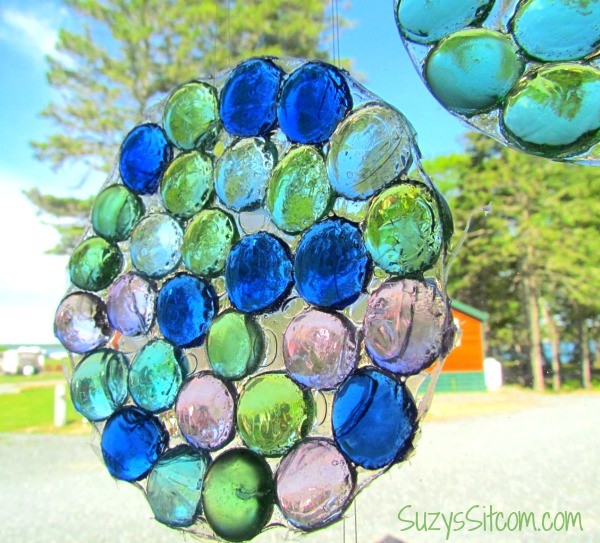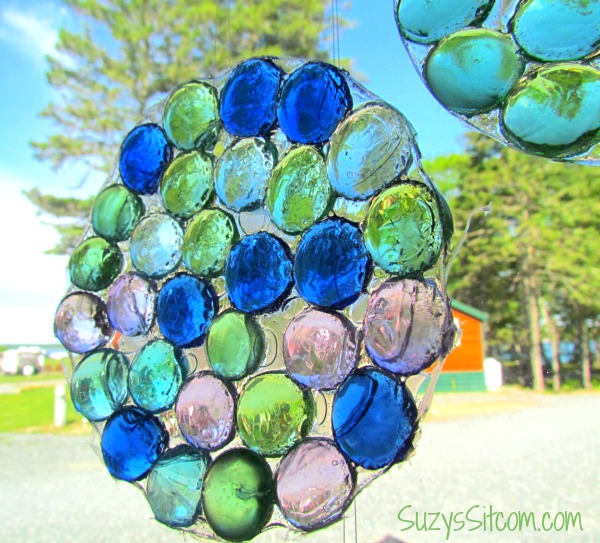 You will be surprised at how simple this sun catcher project is!  In fact, it is a great project for the kids on a warm sunny day.  The items to make them can be found at any dollar store or your local Walmart and both you and your kids will have a blast with this one!

I was looking through my vintage craft book collection and ran across a 1970 Pack O' Fun magazine. They had instructions on how to take a simple popsicle stick and turn it into a bracelet.  I'm always happy to try and take a good idea and run with it.  This is a great project for the kids and for adults too!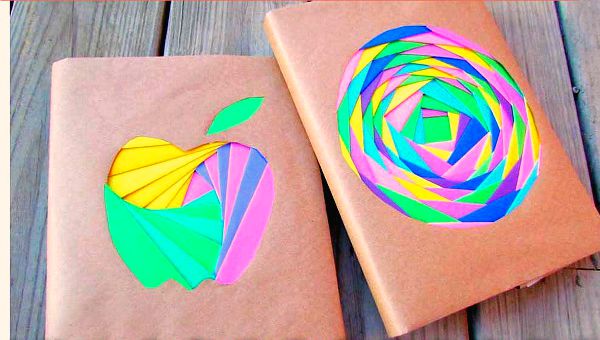 Remember the book covers that you used to make from a grocery bag? I decided to use a technique called Iris Folding with bright colored papers to make those boring bookcovers exciting.  This tutorial includes several free downloadable Iris Folding patterns!
Are you a subscriber of Suzy's Sitcom?  Go to the MEMBERS ONLY page for the free patterns for this project!
As a quilter, I've always had a preference for batik fabrics. I love the vibrant colors! Well, if you have been following my blog for any time, you probably already know that I love me some color. And the idea of using a resist to block color in areas is something that I love doing with my Ukrainian eggs. So, a mix of color and resist dyeing with crayons just seemed right up my alley.
Create beautiful wax covered pine cone gift baskets for just pennies!  They make great decorations for the home, and are even useful as fireplace fire starters in the winter!  You can make them in a multitude of colors to match any decor. The Dollar Store offers pretty baskets, greenery and ribbons.  All for a dollar!  And the pine cones?  Well, go check out the woods.  Those are free!   I colored these for the holidays, but you can make them any color you like.
I love the look of punched tin. And of course I wanted to go about it in a totally different way, simply because I'm cheap like that. So, rather than pricing out thin sheets of tin for this project, I collected a few aluminum cookie sheets from the Dollar Store. And faux punched tin was born!  This tutorial includes a free rooster pattern!
Are you a subscriber of Suzy's Sitcom?  Go to the MEMBERS ONLY page for the free patterns for this project!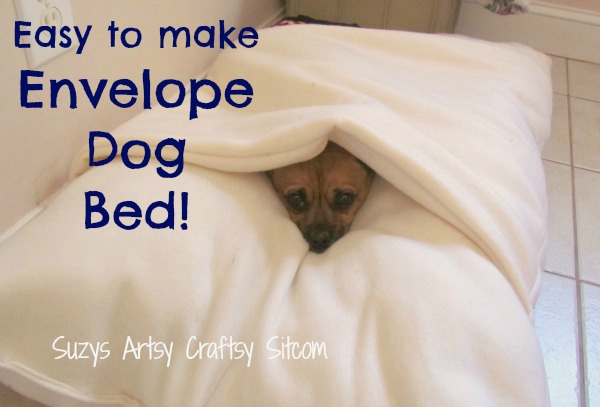 My dogs love to cuddle under the blankets.  This inspired my daughter to create a dog bed in the form of an "envelope" to keep the doggies warm and cozy on a cold winter day.  And the best part is that it only takes 3 yards of fleece to make a nice sized bed!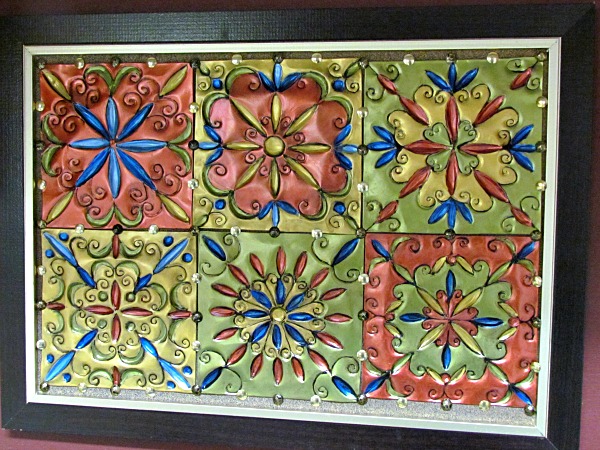 There are many projects now on the Sitcom that are created from disposable aluminum pans, including: The Enchanted Fish, Sleeping Mermaid, Winter Fairy, and The Partridge & Pear. But by far, my most popular pattern and tutorial for 2017 was the original Faux Tin Tiles Tutorial.
And yes, they are made from disposable aluminum cookie sheets!  The tutorial includes 12 free patterns for you to download too!
Are you a subscriber of Suzy's Sitcom?  Go to the MEMBERS ONLY page for the free patterns for this project!
See something you want to try?  The Sitcom is just full of fun ideas.  In fact, I have over 200 more craft tutorials if you are in the crafty mood!  Oh, and free patterns, and even quilt patterns!
The year 2018 will be bringing even more changes in our family, but rest assured, the Sitcom will still be filling with more crafting ideas.  So stay tuned for much more!
Are you new to the Sitcom?  Be sure to check out my Frequently Asked Questions Page!
For over 200 crafty tutorials for all ages, visit my Tutorial Page!