You know the Sitcom started out as purely a craft blog.  And true to it's name, the Sitcom hosts over 200 crafty tutorials.  But lately, I have gotten into experimenting in the kitchen and have branched out with lots of fun and easy recipes that are perfect for parties.  
Ever had that issue where you are invited to a gathering and they tell you to bring a dish?  And the first thing that goes through your mind is what the heck are you going to make that takes the least amount of time and makes the biggest impression?  I mean, the craft room is calling, right?
Or am I the only one that thinks that way?
Hey, at least I don't get stuck with being assigned things like napkins and paper plates any longer!  Here are the 12 most popular party idea recipes and party decor posts from the Sitcom!
My sister and sister in law are fabulous cooks and I usually come in a dismal third. This year, I decided to veer from my usual course of baked beans and deviled eggs and create something fun and different.  These Cheesy Bacon Stuffed Mushrooms have the additional tang of Tabasco for a great blend of flavors.
This easy party appetizer idea took about 10 minutes to make and is a huge hit with everyone.  Perfect for lunches too! My husband loves the fact that his meal is "portable" and he can even drive while he eats his lunch.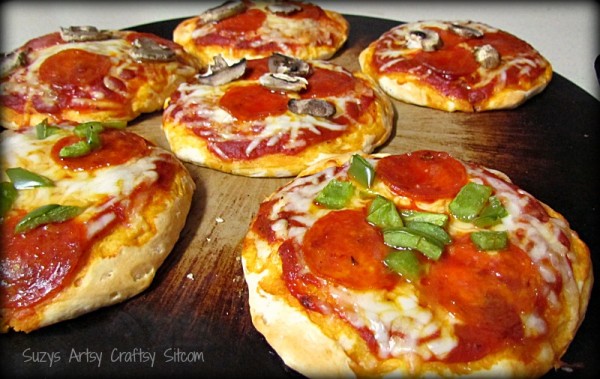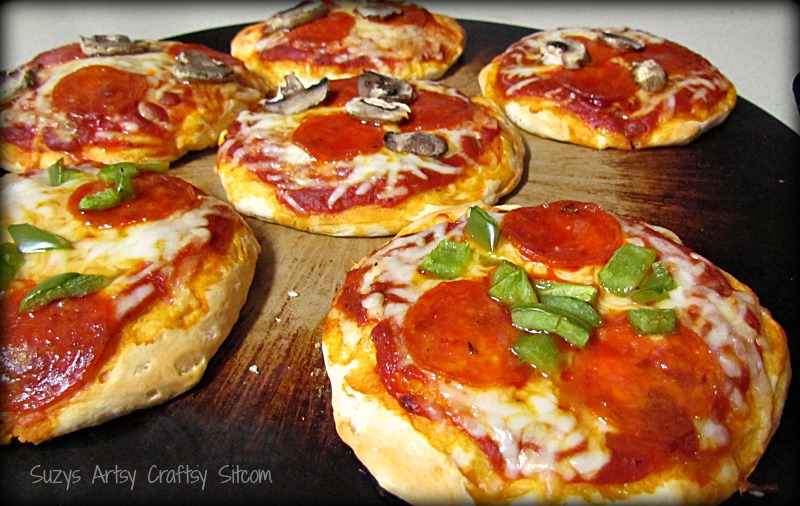 There have been, shall we say, "incidences" in my kitchen.  I have crafters ADHD, and cannot seem to keep my mind on what is in the oven when there is crafting waiting for me.  I wonder off, seeing something shiny and next thing I know there is smoke in the kitchen.  So the family was very pleasantly surprised when they discovered to their amazement that I can actually make something without burning it!  Imagine that!
So what goes better with veggie chips than some veggie dip?  How about a recipe?  Bet they love it!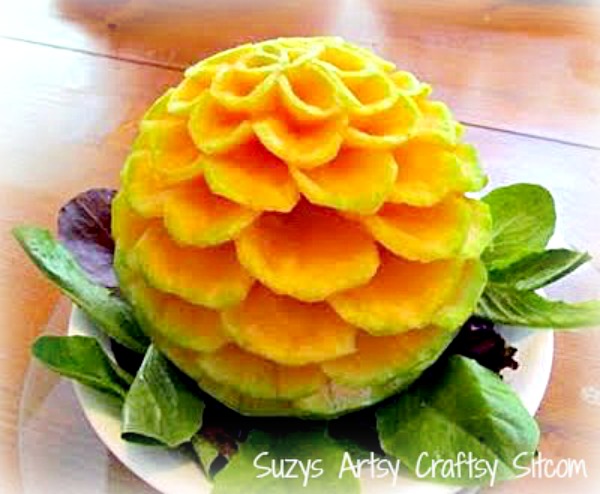 This year in an attempt to make me more social, my sister has been sending me email after email about all the games and competitions she has planned at her party, trying her best to get me to commit to something.  A treasure hunt?  Nah, I'll just watch.  An eating contest?  Really.  I'll pass.  How about a belly flopping contest?  Seriously?  I think not.
There was a pause in emails for a few days and then she hit me with, "A fruit carving contest"? Well, we have certainly thrown down the gauntlet here.  She knows I can't pass up a crafty challenge.
I live in the deep south, so this time of year we are always looking for something light and cool for a refreshing dessert.  Something simple, but delicious.  Because who wants to stand around in the heat of the kitchen when there are more enjoyable things to do on a warm sunny day?
Any recipe that takes no time to make and tastes good is totally up my alley.  I love to craft.  Hanging out in the kitchen?  Not so much.  So I am always on the look out for a yummy recipe that makes everyone happy, yet takes minimal time to make.  Banana Pudding Cupcakes fit the bill!
I made up a whole batch of Microwave Caramel Popcorn with M&M's®.
Microwave??? I hear you say?  I'm sure you raised your eyebrow too.
Really!  I promise it is amazing!  You won't believe how amazing, but you really have to try it.  And the best part?  It only takes minutes to make and involves no candy thermometers.
The great thing about pound cake is that it only takes a few minutes to mix the ingredients together, and the family thinks you've been slaving over a hot oven all day long.  That is my kind of dessert!  And the tasty cocoa almonds are the perfect touch, making this easy to make pound cake that much more special.
I just love a cute party favor and a piñata is an incredibly festive way to decorate. So I came up with an idea using a simple cereal box, tape and colored tissue paper to create personal piñatas for all the guests!  Filled with candy, they make the perfect take-home gift!
Just add pretty matching napkins and plasticware to this easy craft and you have some cool party table settings!  What I love about them is you can make them in most any design or color pattern.  (You don't know how close I came to making them zebra print!)
I may not be a football fanatic but I certainly know how to throw a party!  It occurred to me that they might need a pinata.  Really, what would they do without me!  So without further ado, I ran to my craft room and created a Referee Pinata! The guys will certainly thank me later…
For more fun party ideas from my other website Daily Holiday Blog:
Create an amazing party that folks will talk about for years to come!
For more fun recipes see my Recipe Page!
Are you new to the Sitcom?  Be sure to check out my Frequently Asked Questions Page!
For over 200 crafty tutorials for all ages, visit my Tutorial Page!