It's that time of year to organize the house.  With that in mind, I'm bringing back a fun post from last year… A total craft room organization was in order! Want to see the Before and After?   I'd love for you all to think that I'm not only a good crafter, but I keep a brilliantly clean house, have perfect children, and I'm married to Brad Pitt.  But more than likely, you probably don't believe that.  I mean, Brad barely even gives me the time of day.
In all actuality, I'm kind of a messy crafter.  While the rest of the house stays on the good side of mildly disgusting, my crafty work room is often allowed to become a massive pit, piled with half-finished projects, leftover scraps from finished projects, empty paint cans, paint cans that I forgot to put the lid on, paint cans that I simply lost the lid, containers full of  long forgotten crafty mixtures that I probably should have written down.  Hazardous waste, maybe?
Well, at least I admit it.  When it comes to my room, I figure I'm the only one that has to wallow in it.
But every once in a while, I'm bitten with the neat bug and decide to organize my crafty room and make it much more user friendly.  After all, I spend a whole ton of time in there.  So my daughter and I went on a trip to Ikea, f0und a bunch of great containers, a cute carpet, and some odds and ends.  I spent $50, and created a whole new organized atmosphere.
So here are the before and after photos for you to see.  Along with a bunch of commentary.  Because I'm gonna keep it real here.
BEFORE
My poor sewing machine has somehow been evicted to the corner of a workspace and covered in paint cans and sadness.
My juke box straight from the 1980's.  Hey, don't judge.
My current method for storing all my blown eggs that are ready for dyeing involves random tupperware containers that have been confiscated from the kitchen.  Meanwhile, the leftover spaghetti is currently downstairs in the fridge in my 2- cup measuring cup wishing it had a better home.
Storage for empty toilet paper tubes.  Because I collect toilet paper tubes.  What?  You don't collect toilet paper tubes?  Seriously, one never knows when one might need toilet paper tubes.  They are nearly as important as my pickle jar collection.
Trash.  Most likely because the trash can is overflowing.  Nice.
Lack of arrows here, but stashed in the shelves here are some of my most valuable vintage craft magazines.  See them?  Those dog-eared looking magazines that are half-hazardly stuffed in there.  I hang my head in shame.
Open drawers because it takes a bunch of effort to close them.  Seriously.
Stacks of frames waiting to be made into projects.  What exactly, I don't know, but they were apparently on sale at one time or another.  I'm pretty sure that is dust on the top you see.  And broken dreams.
My dad's fancy dremel tool.  Well, at least that's the box.  The dremel tool?  We'll have to find it in this mess somewhere.
Faith's spot.
11. Glue and paintbrushes and more glue.  Because you can never have too much glue.
12.  The new diet requires me drink 64 oz. of water every day.  Which means that in any given spot in the house sits a cup full of 64 oz. of water.  Drinking it?  Well, that's a whole other ball game.
13.  Unfinished painting.  In progress now, hmmm…. maybe one year?  Sigh.
14.  Finished projects.  They are everywhere.
15. Not sure how long this has been here.  Possibly a private science experiment…
16. Multiple projects all happening at the same time because I have a rare form of Crafty ADHD.
17.  More eggs in random tupperware containers.
18.  Where the yarn stash is supposed to be.
19.   My prized vintage craft magazine collection.  As you can see, I take great care of it.  Ha!  At least it is well loved…
20.  Empty quilt rack.  Where's the quilt, you ask? I'll be looking.  It better not be sitting under a dog butt.  That's all I have to say about that.
21.  I think I just found the yarn stash… just follow the strand of yarn to my over-priced collection of fine wool yarns- all over the floor.
22.  Carpet cleaner.  Because in the spirit of keeping it real, the dogs occasionally yak on my carpet and regular carpet steam cleaning is demanded.  Yep, we are high class here.
So what to do?  Well after a weekend of sorting, cleaning, and stashing, we are ready for the big reveal!
AFTER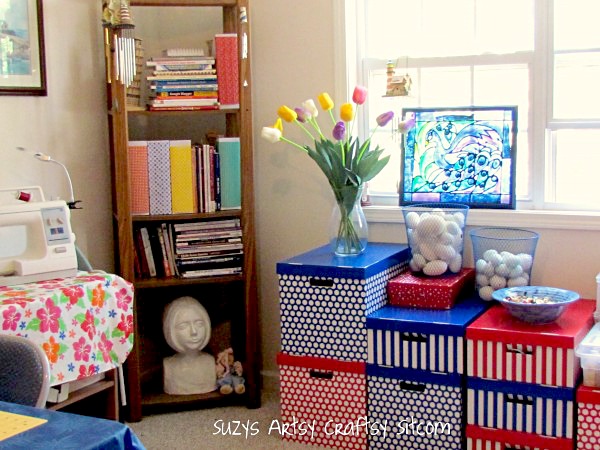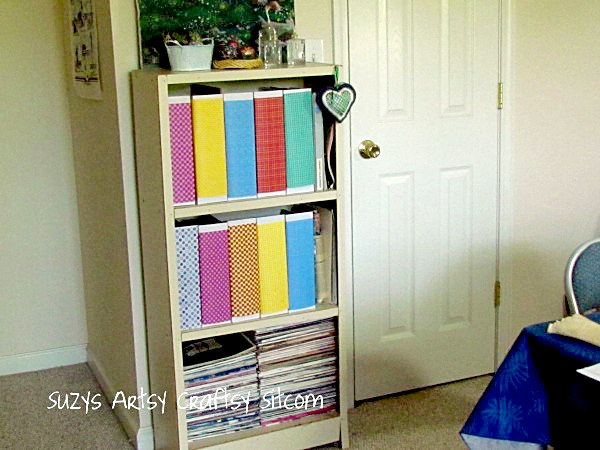 Hardly looks like the same room.  Brad would be so proud!

Want to try your hand at quilting?  My newest quilt Pattern- Batiks Gone Wild!  A great gift!
Are you new to the Sitcom?  Be sure to check out my Frequently Asked Questions Page!
For over 150 crafty tutorials for all ages, visit my Tutorial Page!