I am a big fan of crafting with nature as a theme.  So when looking back at craft ideas from the past, I noticed that I had done a large amount of bird and butterfly crafts.  With that in mind, I put together 8 of my favorite butterfly themed crafts to share with you!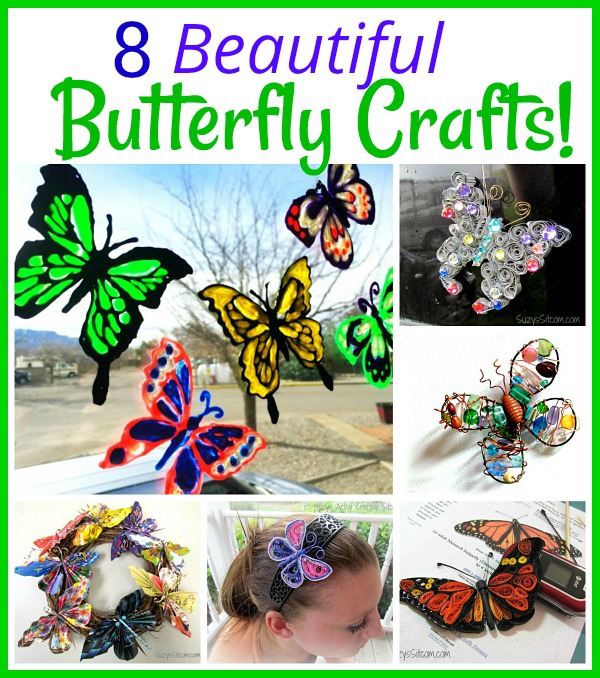 Many of these crafts use recycled materials.  Some of them use paper.  But the one thing they all have in common is the fact that they feature a beautiful creature, the butterfly!
Enjoy!
Paper Butterfly Wreath from Magazines
Craft magazines are particularly hard for me to get rid of.  So, I pulled a few of them aside and created a Recycled Paper Butterfly Wreath.  This simple project includes a free pattern, and easy instructions to fold your own paper butterflies!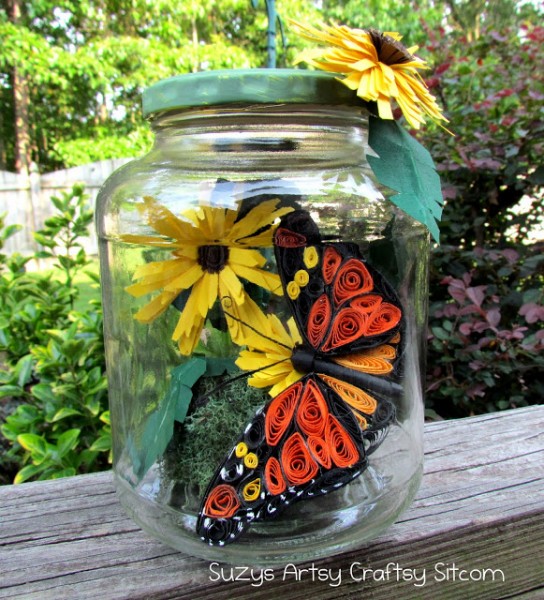 Paper Quilled Butterfly in a Jar
Try your hand at paper crafts!  This beautiful butterfly in a jar not only is a great way to recycle, but makes a fabulous conversation piece.  Paper quilling with colored cardstock and a recycled jar!
Love to paper quill?  Try these projects too!
Quilled Summer Blooms Frame
Quilled Starry Night
Quilled Topiaries
Faux Metal Wall Art
This tutorial uses disposable aluminum pans to create coils.  A beautiful metal butterfly makes a pretty sun catcher when decorated with gemstones!  Easy tutorial!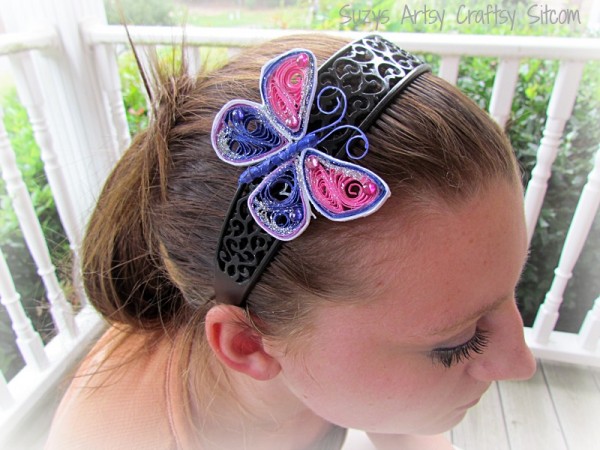 Quilled Paper Butterfly Headband
Playing with paper is a lot of fun.  Some of the Sitcom readers have asked me for a beginners tutorial on Quilling.  So here is a tutorial for a Paper Quilled Butterfly Headband created just for beginners!
DIY Wire and Bead Butterfly Magnet
Using heavy gauge wire and an assortment of beads, this pretty butterfly is a project that can be made in an afternoon.  The original idea was created from a bead kit, but can be made from any assorted bead and wire supplies.
Easy to make Butterfly Window Clings
These pretty window clings are so easy to make!  All you need is puffy fabric paint and my free butterfly pattern.  They cling easily to your shiny clean window without leaving any residue and add a bunch of bright color to an otherwise dreary day.
How to easily create this beautiful paper quilled monogram using just card stock and a home made quilling tool!  This project cost just pennies to make!
Have you ever priced mobiles?  My daughter and I did, and left with sticker shock.  While they were certainly cute, we were looking at $50 to $100 for the type of mobile that we both liked.  Since the baby will only be enjoying the mobile for a short time (before it needs to be removed from the crib for safety reasons), we didn't want to spend a ton of money.
Here is an easy to make mobile with free butterfly pattern!
See any projects that you would love to try?  Sit back and enjoy a warm sunny day and create some beautiful butterflies!
Are you new to the Sitcom?  Be sure to check out my Frequently Asked Questions Page!
For over 200 crafty tutorials for all ages, visit my Tutorial Page!