The year 2013 was a wonderful year for the Sitcom!  I now have over 150 detailed craft tutorials for you, and the number increases each week.  But over the past year certain ones have stood out from the rest.  It seems that you love the recycled crafts and crafty ideas for kids!   You can find photos and easy links to all 150+ tutorials on my tutorial page.  I have quite a few more up my sleeve for next year, so be sure to stay tuned to the Sitcom!
In the meantime though, here are the top 10 most popular Craft tutorials for 2013 from Suzy's Sitcom!
One of my original tutorials, the Faux Metal Wall Art is still in my top ten, but this past year it was overtaken by my latest recycled craft- creating embossed metal from disposable aluminum pans!  There are many projects now on the Sitcom that are created from these disposable aluminum pans, including: The Enchanted Fish, Sleeping Mermaid, Winter Fairy, and The Partridge & Pear. But by far, my most popular pattern and tutorial for 2013 was the original Faux Tin Tiles Tutorial.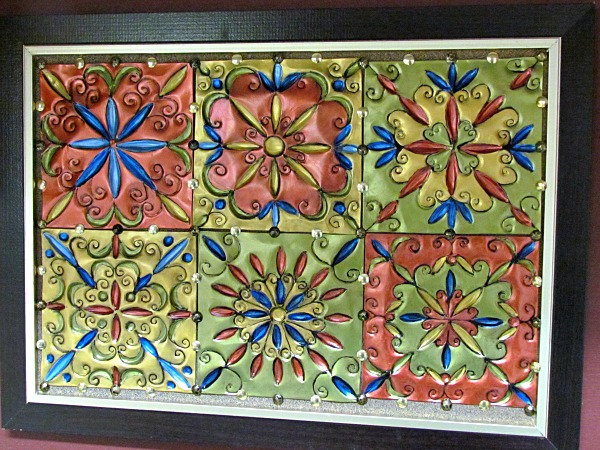 Recycled crafts are one of my specialties.  Embossing disposable cookie sheets is an easy technique and creates amazing art.  Beautiful faux tin tiles!  Want to know how?  This tutorial includes 12 free patterns!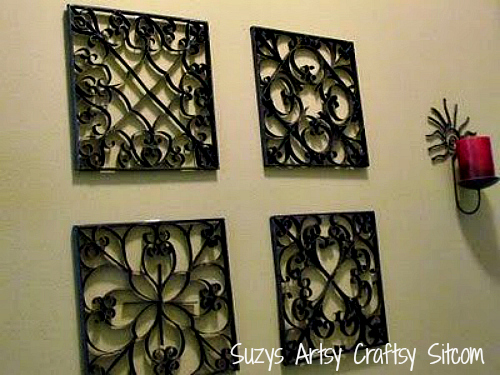 I decided to try my hand at mixing some quilling techniques and toilet paper tubes to come up with some faux metal wall art to spice up my Southwestern theme kitchen. Yes, I said toilet paper tubes!  This fun tutorial includes four free downloadable patterns!
I was looking through my vintage craft book collection and ran across a 1970 Pack O' Fun magazine. They had instructions on how to take a simple popsicle stick and turn it into a bracelet.  I'm always happy to try and take a good idea and run with it.
I love to peruse my vintage craft books and bring back ideas that seem new to some.  And I stumbled upon an idea to create faux stained glass using only acrylic paint and glue.  What is great about this project is that you can make it as simple or as complicated as you like.
As a quilter, I've always had a preference for batik fabrics. I love the vibrant colors! Well, if you have been following my blog for any time, you probably already know that I love me some color. And the idea of using a resist to block color in areas is something that I love doing with my Ukrainian eggs. So, a mix of color and resist dyeing with crayons just seemed right up my alley.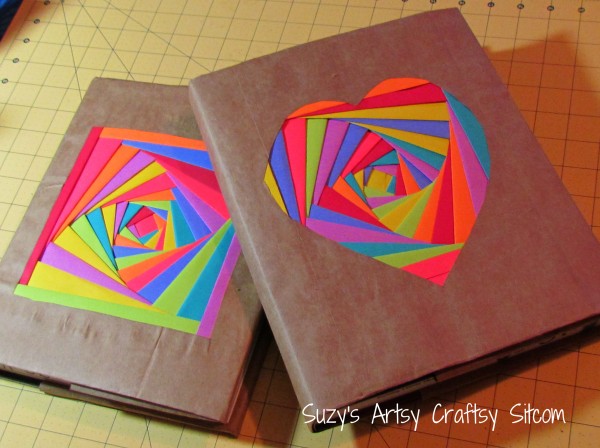 Remember the book covers that you used to make from a grocery bag? I decided to use a technique called Iris Folding with bright colored papers to make those boring bookcovers exciting.  This tutorial includes several free downloadable patterns!
Well, if you are familiar with The Sitcom at all, then you probably already know that you are looking at a whole bunch of toilet paper tubes!  This time I was inspired by a photo of an old rusted iron gate, and I just had to pull out all those toilet paper tubes and recreate it.
Ever since the Faux Metal Wall Art project, I have been inundated with toilet paper tubes. At least several times a week, a family member, friend or vague aquaintance will hand me a bag full of toilet paper tubes. Everyone wants me to come up with a sequel to that project. What have I done to myself? Well, the lengths I will go to in the name of artsy-craftiness. So the idea of a Faux Metal Filigree Frame was born. Yep, made from toilet paper tubes!
The year 2014 will bring with it lots of new crafty ideas, humor, and fun!  So please stay tuned!   Also, be sure to stop by and check out my other blog, Daily Holiday Blog, where I keep up with those random daily holidays for you. Daily Holiday Blog has a daily dose of humor, recipes, gift items, fun facts and much more for every random holiday.  Every day is a celebration!
—
Want to try your hand at quilting?  My newest quilt Pattern- Batiks Gone Wild!
Are you new to the Sitcom?  Be sure to check out my Frequently Asked Questions Page!
You can keep up with the Sitcom on Facebook for daily updates!
For nearly 150 crafty tutorials for all ages, be sure to visit my Tutorial Page!