As a full time crafter, sometimes I think I spend more on a project than if I had just shopped Amazon. Let's face it, sometimes craft supplies can be expensive.  But I do have a few DIY ideas that can save you money.  You can get the same or similar look at a fraction of the price, and have a lot of fun in the process!
I'm a cheapskate at heart.  Especially since we sold our home and began traveling in our RV.  It helps to stretch the dollar a bit, but still be able to create beautiful projects anytime I want to.  Here are some of my most favorite money saving tips and craft ideas!
1. Faux Stained Glass
One of the most popular projects on the Sitcom uses Faux Stained Glass Paint.  This DIY craft supply is easy to create, with fabulous results.  It gives the look of stained glass, but doesn't have the higher cost of actual stained glass paint.
And it is kid friendly too!  Just check out some of my readers submitted projects!  And also these beautiful projects here!  You can even make faux tiffany!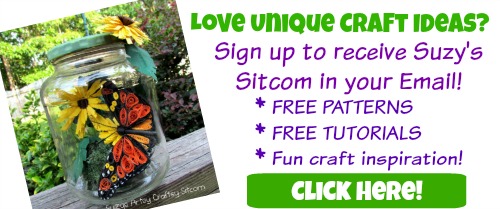 2. How to make your own stencils
A great way to save a bit of money and create duplicate images is to make your own stencils.  You can purchase blank stencil material at your local craft store and create your own!  Here are two fun tutorials which even include a free flower stencil pattern for you!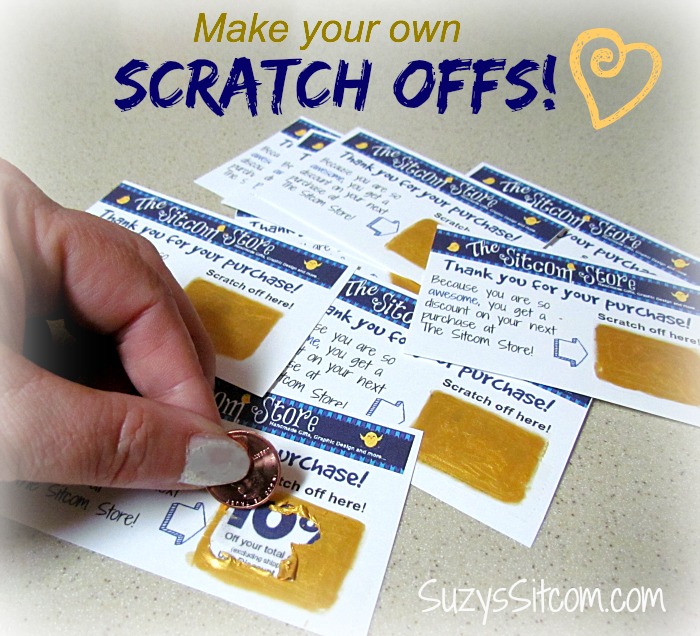 Using just paint and of all things – dishwashing soap, you can easily create your own scratch offs!  I made a whole batch of scratch off coupons for my Etsy shop.
Don't have a shop?
Well, this little project is also great for giving homemade birthday cards with a special message under the scratch off.  Maybe a chore chart for the kids where they scratch off their chores?  Gender reveal cards? Or how about a cool gift card for the hubby with fun things to do.   Lots of possibilities!
You can find the easy tutorial here: Make your own scratch offs!
In fact, I revisited this easy craft idea on Halloween…
My sister throws a huge party every year, and she is always looking for ideas.  Me, I'm not a fan of scary.  I usually go with cute for Halloween with projects like my Jar O Monsters, and my Mummy Wreath.
So, instead of scariness, I came up with a cute scratch off idea.  Click here for the Free Halloween Print out and instructions!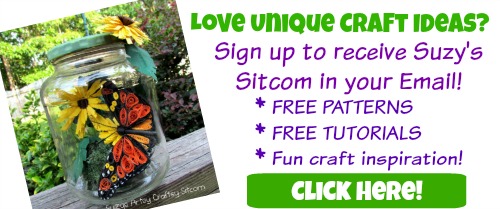 4. Make your own Monogram out of a Cardboard Box!
Creating things that look expensive out of things that just plain aren't is kind of a hobby of mine. I love monograms and they make great gifts. But I hate spending the money for cardboard monograms. So with that in mind, I decided to create my own monogram and add a quilled twist to it!   Click here for the full tutorial!
5. Create beautiful things from Bread Dough!
This Bread Dough Clay recipe has lots of possibilities. I use it in several projects including the Christmas Joy Bears above,  Bear Christmas Ornament, and a cute Bear Teacher Gift.  But there are lots of possibilities; jewelry, sculptures, and much more.
Bread Dough is a viable substitute for expensive polymer clay, is kid friendly, and uses just a few items from your kitchen!
6. DIY Crackle Paint
How about DIY Crackle Paint?  This simple substitute is so much less expensive than buying actual crackle paint, and you will be shocked at how easy it is!  I used the technique on my Holiday Partridge Mirror to cover up a beaten up wood frame. It's a great look for just pennies.
So if you love to craft, and love to save a bit of money; check out these crafty ideas, and start creating!
Are you new to the Sitcom?  Be sure to check out my Frequently Asked Questions Page!
For over 100 more tutorials for all ages, visit my Tutorial Page!